Funderbuilt, a crowdfunding portal based in Southeast Michigan, launched on July 4th to service all types of fundraising needs and models, including donations to charitable causes, reward-based contributions to creative and business endeavors, and equity-based investments in new businesses and products.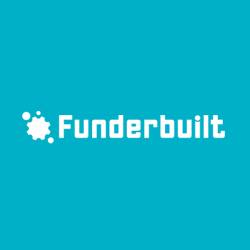 While most crowdfunding platforms take a percentage of a project owner's raised funds with no upper limit, Funderbuilt's fee is never more than $250, so project owners keep more of the money they raise (Funderbuilt keeps 5% of the funding goal or $250, whichever is less).
The portal also provides what's called a FunderFactor, a quick and easy way to gauge a project's progress and the efforts of the project owner. Once a project is launched, the portal recommends that users utilize the Funderbuilt Toolbox and To-Do list to continue building support for their project.
Chief Marketing Officer of Funderbilt, David Moncur stated, "Our goal is to attract the best projects and the best funding sources and put those two groups together – that's where the magic happens. Our flat fee pricing model is revolutionary to the industry and we go all out to help project owners be successful with their projects. Our platform has systematized the entire process so it's easy to upload a project, then learn exactly what you need to do on each day of your crowdfunding campaign to maximize the likelihood of success."
With the launch of Funderbuilt, Cincinnati, OH-based Fifth Third Bank has announced that it will refer business opportunities to the crowdfunding portal that may not fit the bank's traditional lending requirements, but have a solid business plan, management, etc.
Vice President and Team Lead Commercial Middle Market of Fifth Third Bank, Mark Morrison noted, "The exciting thing about crowdfunding is that it provides much easier access to capital for smaller entrepreneurs, and I believe that it may well revolutionize the formation of new businesses, providing badly needed positive momentum for our economy. As a banker, one of the most important factors for lending is cash flow and crowdfunding could help fund the gap until an entrepreneurial business establishes the cash flow necessary to qualify them for a loan. We look forward to working with Funderbuilt as a referral source for start ups and small businesses who don't meet lending requirements."
Providing simply successful crowdfunding, Funderbuilt makes it easy for project owners to connect with donors, contributors and investors who will help them fund their dreams. With lower fees, flexible funding models and easy to manage tools for success, Funderbuilt is designed to help projects succeed and gives project owners the best possible chance of reaching their funding goals.

Funderbuilt is perfectly suited to ALL KINDS of fundraising projects, so there's no need to choose between multiple platforms. Projects are grouped into 3 categories – Causes, Ideas and Ventures — and just about any project falls into one of these 3 buckets.

Sponsored Links by DQ Promote