With the help of 540 investors Bonaverde has raised over €752K+ on its Seedmatch equity crowdfunding campaign in just ten days; nothing like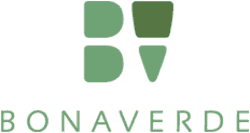 officially overfunding more than 750% to create a buzz for the über coffee machine!
Last November, Bonaverde kickstarted its innovation- a coffee machine that roasts, grinds and brews coffee- with great success, overfunding $681,461 with 2,254 backers.  "Ever since Kickstarter is still branded 'the crowd' as an integral part in our DNA," Bonaverde relayed on its Seedmatch campaign.  Following the Kickstarter campaign, Bonaverde sought another crowdfunding project, this time on Indiegogo to raise start-up capital for our second major project: the construction of a direct trade network between coffee farmers and consumers, with not only more visibility, better opportunities and concrete fair and stable prices guaranteed but also better coffee and a keener insight into the production of the beans.  After Bonaverde again overfunded, this time hitting 200% of its funding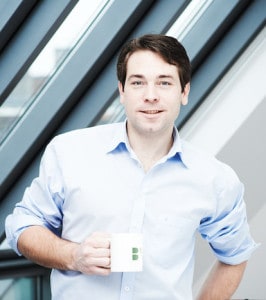 goal with 438 backers, the company began implementing its business plan, partnering with coffee growers, arranging production facilities and refining its product development.
With insightful interviews from CEO Hans Stier and esteemed Investor Michael Brehm as well as a formidable list of German and International press mentions in Der Spiegel, MDR-Ingenious, Business Week, Tech Cruch, Bloomberg BusinessWeekTV, Fast Company Design and WIRED Magazine to name a few, Bonaverde has sustained its buzz. Bonaverde's transparent and eloquent Seedmatch campaign easily engages non-coffee drinkers alike: the campaign percolates excitement about coffee, the Bonaverde-Maschine itself and the company's next steps.
According to Bonaverde, here's what's brewing:  "Establishing a direct trade between consumers and farmers – and the former more transparency, and create fair conditions for the latter. To enable this direct exchange, we are also building a community platform on which the producers can present their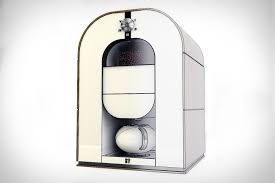 beans and sell directly. This allows coffee lovers unfiltered insight into the world of coffee production, while farmers benefit from a new visibility and significantly better margins – as we better, more stable can offer prices." Looking into the near future, if and when Bonaverde reaches 1 million euros in funding, the capital would enable the company to enter the B2B market. At 1.5 million euros, the campaign's funding limit, the second generation of Bonaverde internet equipped machines would become a possibility.  Further details about the company's financials and business plan are available for Seedmatch investors.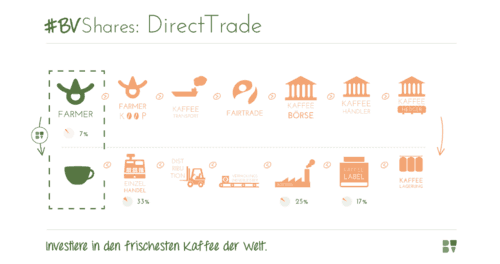 Bonaverde already enjoys four critical partnerships:  On the production side, Bonaverde found a development partner in X-pect Innovations and also homezest.com,  the leading manufacturer of classic filter coffee machines.  Equally important becomes sourcing the best coffee from the best farmers at the best prices provided with the best logistics partner:  Ecom Trading. For its business model and selling, Bonaverde has teamed up with Germany's most successful online business model conveyors together: Michael Brehm takes over along with his Inkubatornetzwerk Rebate Network GmbH and its venture capital investment vehicle MCB Salt GmbH the right online strategy of our product. Lastly, Mark Hartmann handles Bonaverde's distribution.
The Founder, CEO and face of Bonaverde Hans Stier and his Berlin based team urges investors to take a chance and invest in a disruptive business model from A to Z:
 A roasting grinding brew coffee maker that produces the freshest possible coffee
A direct trade between farmers and consumers concept, the two parties significant added value and provides us with an attractive margin
A chip technology that creates the perfect roast profile
And above all, the chance to give people the opportunity to experience coffee in its original freshness and diversity!
And … a sleepless (coffee addicted), ambitious (product fanatic) and capable (startup-and role-experienced) team, which covers all areas along the currently required expertise and complements perfectly.
But wait, incentives also await investors!  The early birds have already caught the mugs and personalized machines awarded at €200 and €2,000, respectively, but Bonaverde-Maschine may still be obtained for €2,000 investments. For investments exceeding €6,000, several Bonaverde are awarded with a year's supply of favorite coffee beans.  Bonaverde's Seedmatch campaign ends in 49 days.

___________________________________________________________________________

Bonaverde on Seedmatch from Bonaverde on Vimeo.

Have a crowdfunding offering you'd like to share? Submit an offering for consideration using our Submit a Tip form and we may share it on our site!

Sponsored Links by DQ Promote