The very first company in New Zealand to take advantage of the new Kiwi exemption that legalized equity crowdfunding – Renaissance Brewing  – has issued the last call for shares.  The offer has been live on Snowball Effect for just over a week and stands at over 90% funded.  In a note to followers Renaissance thought with luck the offer will be fully subscribed by this week.  Renaissance is offering 10.71% ownership in their company for $600,000 NZD.  To date 212 investors have participated in the funding round for the craft brewery.  The offer has a closing date of September 12th so there is plenty of time left on the clock.
As part of the equity opportunity, investors also will receive perks such as special pricing on beer and access to limited release brews.  This type of hybrid campaign has been used to great success by BrewDog in Scotland – probably the first craft brewery to ever launch an equity crowdfunding campaign.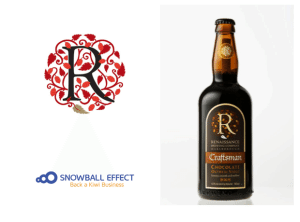 Renaissance is a small brewery based in Malborough, New Zealand.  The brewery strives to produce high end, ultra premium ales using local ingredients.  The company was launched in 2005 by two natives of Southern California who saw an opportunity to produce "stunning beers" in the heart of New Zealand wine country.
Equity crowdfunding was signed into law in New Zealand this past Spring.  It was only in the past few weeks the regulatory agency in New Zealand started licensing platforms to offer shares via the internet.  Snowball Effect was one of two platforms to first receive licenses.