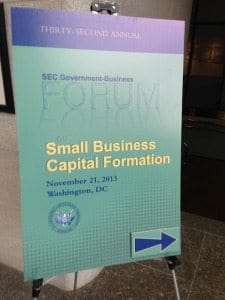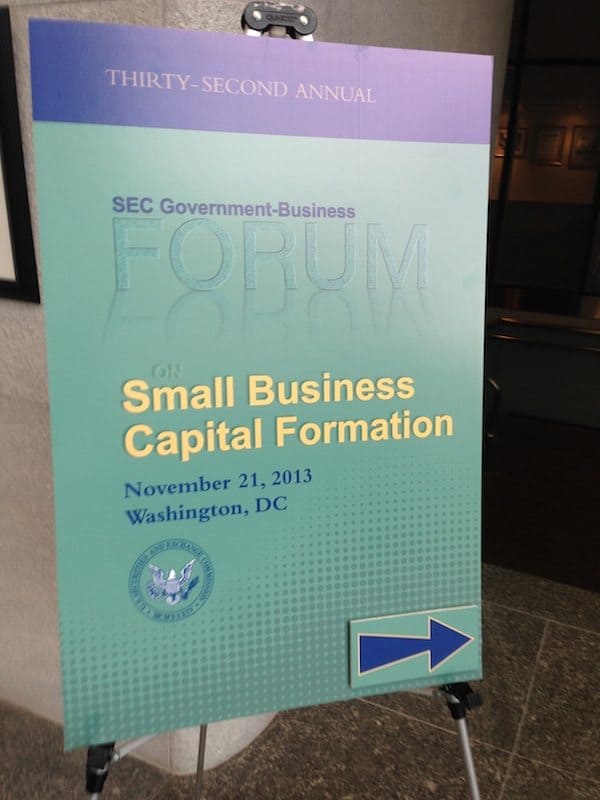 The Securities and Exchange Commission (SEC) has scheduled the date for their annual Government- Business Forum on Small Business Capital Formation. The event will take place on Thursday, November 20, 2014 at the SEC headquarters.  Proceedings will commence at 9AM  and continue through the day.
The gathering is a mandated event and in years prior has generated significant participation from various business groups.  In the past two years one of the hot topics has been the various forms of crowdfunding including Title II, Title III and Title IV of the JOBS Act.  Final regulations regarding both Title III, retail crowdfunding and Title IV Regulation A+ still outstanding there remains many questions as to the commitment of regulators to their mandate on facilitating access to capital for small businesses.
The event is open to the public but requires prior registration.  Morning panel discussions will be webcast but afternoon breakout groups will not be live streamed.  Interested participants may phone in to participate in the afternoon sessions.  An agenda was not available for release but is expected to follow in the near future.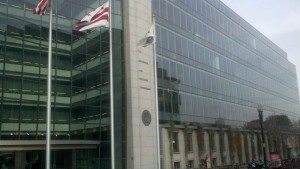 Interested participants must register prior to a November 14, 2014 cut-off date.  Organizers are accepting suggestions for topics.  They may be forwarded to:  [email protected]   Questions may be directed to Anthony Barone, at (202) 551-3261 or [email protected] in the SEC's Office of Small Business Policy.