The national unemployment rate fell to 5.9 percent in September, down from 7.2 percent in September 2013, according to a USA Today article released on October 30th. Doug Carroll of USA Today wrote that, "The downward trend means fewer workers getting laid off, adding to other signs of an improving labor market and a stronger U.S. economy." Yet the nation's soaring unemployment rates during the recession caused millions to fall behind on mortgage payments and many are still struggling today.

In helping homeowners like five-year army veteran Jai Dix get back on track with payments, real estate crowdfunding platform, American Homeowner Preservation (AHP), aims to provide relief for those who were rattled by the recession. In 2005, Dix's father, a 33-year army veteran, helped him purchase a Toledo, Ohio home utilizing HUD financing. In 2012, Dix was stunned when he was laid off from his city job after 25 years of employment. Dix then fell behind on his mortgage payments and his house went into foreclosure. To stop the sale of his home, Dix filed for bankruptcy.
When Dix came out of bankruptcy, he was notified AHP owned his mortgage. In order to better understand the situation, Dix contacted AHP and was able to have direct contact with the company's Founder and CEO Jorge Newbery. Dix stated,"I emailed Jorge and Jorge emailed me back. It was one on one contact and we could talk on the phone,"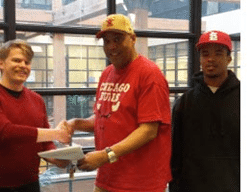 Dix was a year behind on his mortgage payments and still owed $44,954.00. In purchasing his loan at a discount, AHP was able to offer him a release of mortgage for the price of $14,000.
AHP uses real estate crowdfunding to purchase pools of distressed mortgages and provides accredited investors with 9-12% returns over terms of one to five years. The company was founded in Cincinnati in 2008 to help families at risk of foreclosure stay in their homes. Today, the company stabilizes communities nationwide by resolving distressed mortgages. Still, AHP has impacted Ohio more than any other state.
"AHP has seen tremendous success in the state of Ohio where we have helped nearly 200 families avoid foreclosure and put dozens of vacant homes back into service," Newbery said. "Mr. Dix's story exemplifies the vision I had when I founded AHP. Millions of people were impacted by the recession and foreclosure crisis, and we have found a way to provide viable solutions to families and above-market returns to investors. This is truly a win-win situation."