Black Flash Seeks £3 Million in Equity Crowdfunding Re-do Hoping to Top the £1.6 Million Raised in Previous Round.

The film Black Flash launched a successful equity crowdfunding raise earlier this year on CrowdBnk  topping £1.6 million from 11 investors.  Following the crowdfunding round, producers decided the amount wasn't sufficient taking a different path by returning all funds to investors while preparing to relaunch the campaign.  The change in strategy was decided with the commitment by backers they would participate in the second round.  A spokesperson from CrowdBnk clarified the approach;
"Black Flash is undergoing a second crowdfunding round to raise more money for the film. After the initial fundraising round, the production company – Roker 37 – decided to return the money to investors in order to raise a larger sum to make the movie on a bigger scale. The initial £1.6 million raised has been returned to those original investors, with all of them pledging to recommit their money to the second crowdfunding round."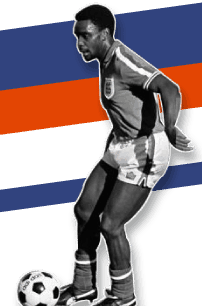 Black Flash is a story about the UK's first black footballer Laurie Cunningham.  The profile covers the years spent playing for ex-England, West Bromwich Albion and Real Madrid athlete.  The planned feature film wants to be the largest equity crowdfunding raise for a film ever in the UK by raising £3 million.  By crowdfunding the film organizers hope to reach a far wider audience and open up an opportunity to invest in a project normally only available to high net worth individuals.  Interested investors may participate for as little as £10.
The biopic is written by Daniel Fajemisin Duncan, directed by Gabe and Ben Turner and produced by Leo Pearlman. Former footballer, turned TV / radio presenter and football pundit, Jason Roberts has just signed on as an Associate Producer of Black Flash. Jason has long been a key voice on the issue of racism in football and has a personal tie to the story – his uncle Cyrille Regis was a contemporary of Laurie Cunningham's and he has grown up on stories from his uncle on both their footballing triumphs, as well as the appalling racism they and other black players faced at the time. 
The film will tell the story of Laurie Cunningham described as a "shy dreamer blessed with breath taking ability – who became an icon, if not a champion, and died tragically before his time". The creators state that on the surface Laurie was exuberant; he loved to dance, wore loud fashionable clothes and played with a mesmerizing freedom and grace. Inside though he was quiet and complex and it is this dichotomy that will define his story.
The film is being produced by Roker37 Films Limited by the same team that has directed theatrically released films such as: In the Hands of the Gods, Piggy, One Direction 3D, JLS 3D, The Class of 92' and many more. Roker37 has worked with distributors such as Sony, Lionsgate, New Line, Revolver and Columbia Pictures, while working with talent such as; Ben Drew, Paul Anderson, Neil Maskell, One Direction, Gary Barlow, Robbie Williams, James Corden, David Beckham and Ophelia Lovibond.
Rapper turned actor Ashley Walters has expressed interest to play Laurie Cunningham and James Corden has been tapped to play Laurie's former manager at West Bromwich Albion, Ron Atkinson. Anthony Mackie has also expressed interest in playing the lead. "Black Flash" is intended for theatrical release in cinemas worldwide before becoming available on DVD, VOD and TV. The aim and belief is that the film will achieve both critical and commercial success.
The campaign on CrowdBnk explains that the majority of funds raised on CrowdBnk (92%) will be allocated to two main uses: (a) the production of the film and (b) the provision of production services to third parties. The rest of the funds (8%) will be allocated to cover the expenses of the offer.  The equity capital will be split into A shares and B shares with A shares being held by the Directors and B shares held by investors.  Expectations are that 100% of the profits will be returned to investors up to the amount of capital invested.  After fulfilling this hurdle, 25% of profits will be returned to shareholders.  After three years directors will solicit the best approach for investors to realize the potential of the investment.
There have been other films raising equity in the UK.  Currently a film by Simon West, "Salty" is raising capital on competing site SyndicateRoom.  For investors the question always remains as to the quality and popularity of the final production – always an unknown until far after the investment has been made.  For football fans the participation in a potentially historically important football film, that combines a compelling story with issues of race, may be sufficient to coax investing in the film.
CrowdBnk has successfully funded 12 companies since 2013 helping to raise over £7 million.  The company states that every offer listed on the platform is thoroughly vetted with CrowdBnk becoming a shareholder in each company.
Have a crowdfunding offering you'd like to share? Submit an offering for consideration using our Submit a Tip form and we may share it on our site!