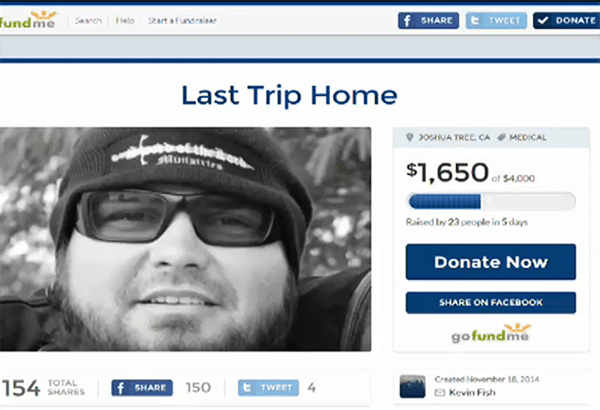 Earlier this month, an alleged Iraq war veteran known as Kevin Fish debuted his crowdfunding campaign on GoFundMe to raise $4,000 for what he noted to be his final trip to his family in Louisiana before he died from bone cancer.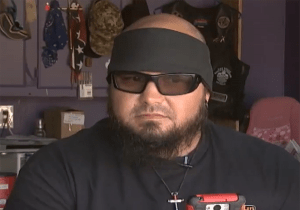 Fish shared on the campaign's website, "I am fighting bone cancer and it's not looking promising. I am currently inoperable and just want to make memories with my family. My wife and kids have never been to my hometown and I haven't back home since Katrina. I left there on a bike and want to make my last trip home that way."
Within its first week, Fish's campaign raised $1650. Unfortunately, California news station KESQ, revealed that one of the pictures on the campaign's website looked identical to one published in a medical journal in 2007. When asked about the photograph, Fish claimed that the picture was by his cell phone at the doctor's office and that the doctor told him that it was an image of his MRI. "I'm telling you what happened, as God as my witness. I was in the office, he put this up on there, after I sat in an MRI box for 30 minutes taking pictures of my body."
He also noted that the doctor must have "mistakenly" put up the photo from the journal instead of his actual MRI. He was unable to show any documentation that he was battling cancer for the past two years. After the interview with KESQ, Fish removed the GoFundMe campaign, but unfortunately he is still able to receive the funds.
The crowdfunding platform stated, "GoFundMe does not actually handle any of the funds. All donations are processed by our payment partners, and are kept in a separate payment account accessible only to the campaign organizer. So, if an organizer decides to remove their GoFundMe campaign, they still have the ability to access the funds in their payment account afterward."
Upon hearing the news about Fish's deception, Senior Pastor Wes Wilson of Sword of the Lord, the church that Fish attends and told he was suffering from the disease, stated,"It's going to sound terrible, but I hope he has cancer. I hope he really is sick. I hope the deception doesn't go so far and it doesn't go so deep that he doesn't have cancer at all.
"Our council to him was that if he needs to come clean, then needs to come clean, he needs to return every cent of donation money given to him," he added.
Have a crowdfunding offering you'd like to share? Submit an offering for consideration using our Submit a Tip form and we may share it on our site!