GreenRushReview.com, a reputable general medical marijuana news website reports that marijuana crowdfunding is one industry to watch closely in 2015.

According to the Cannabusiness Funding & Financing Handbook of Marijuana Business Media, a survey of cannabis business owners revealed that more than 60 percent of entrepreneurs who established a marijuana-related business in 2013 did so with their own savings and personal debt. These entrepreneurs tapped their 401(k)s, maxed out their credit cards, sold big-ticket items, or even cashed in their the college funds of their children in order to obtain funds for their startup ventures.
The same report showed that other means of raising funds for cannabis businesses included loans, equity investments, and selling shares to the general public. Crowdfunding, however, is now an emerging industry for providing business owners with a legitimate means to raise money to fund their cannabis expenses. With crowdfunding, individuals are able to contribute money in exchange for product samples, recognition, or other types of rewards.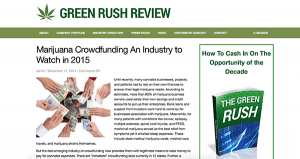 Although laws on crowdfunding for marijuana-related businesses and services are still hazy in many states, at least 12 states have developed intrastate crowdfunding laws. Numerous businesses and platforms are either in the works or have already emerged, including Cannafundr, CannaDabbaDoo, PotFunder, and The ArcView Group.
Cannafundr is a company that offers accredited investors a safe and private way to access investment opportunities. They do not charge any membership fees, and do not collect listing fees from businesses seeking to raise capital. CannaDabbaDoo, a part of the Beverly Hills Cannabis Club, has raised more than $1.1 million in pledges. At present, the site has over 100,000 projects listed for areas such as agriculture, charities, grow operations, and dispensaries.
PotFunder is a platform that allows for funding to be raised for numerous projects directly using the PotCoin cryptocurrency. Although the community aims to help fund projects beneficial to PotCoin, they eventually aim to make the platform available to funding projects of all forms. The ArcView Group is one of the leading platforms in the industry that connects marijuana investors to businesses. Currently, it has raised more than $17 million in its group of over 375 investor members and 34 businesses.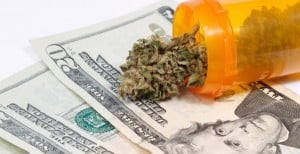 GreenRushReview.com strives to be a convenient and reliable online resource for all medical marijuana consumers, entrepreneurs, and investors. The website aims to provide the general public with extensive coverage on features, news, and opinions on the multi-billion marijuana industry and culture in North America, including industry stocks, implications, trend developments, investment opportunities, business opportunities, and legislation.
The coining of the term "Green Rush" refers to the swift surge of activity brought about by the legalization of medical marijuana in 23 states, and the acceptance of comprehensive cannabis and medical marijuana programs. Green Rush Review sifts through the abundance of material on the marijuana industry available both online and offline, only publishing high-quality information that is significant to its readers.