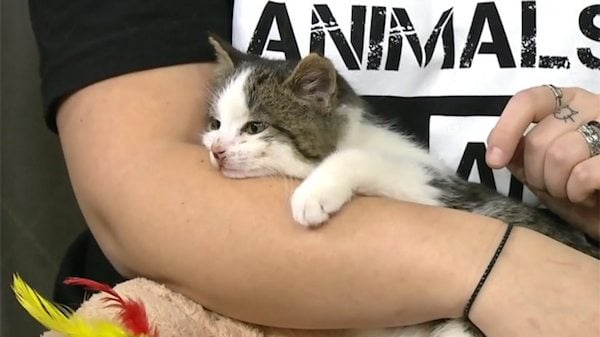 Last month, a crowdfunding campaign surfaced on Indiegogo for a kitten by the name of Pedro. The kitten was less than 12 weeks old when he was thrown out the window of a vehicle near Canada's Gardiner Expressway. Due to the impact, Pedro broke all of the toes on he hind legs, suffered a fractured hip and even had a laceration on his lip.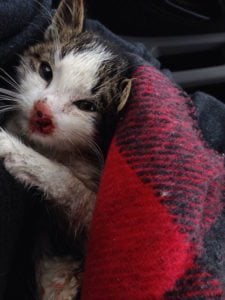 Pedro was taken to Toronto Humane Society by a nurse, Mandi Howard, who found him for treatment. In an effort to help the little kitten get back on his feet, Howard's friends created the campaign to help fund all of his surgeries. It raised nearly $10,000 during its run on the crowdfunding giant's platform.
The campaign reads, "He's been through so much — please help us to get him the care he needs.Funds will be used to pay for his present medical needs as well as his post-operative and rehabilitation care."
Unfortunately, the Toronto Humane Society announced that it has yet to receive any of the funds that were given to the project. On Friday, the organization announced in a press release, "The dollars raised through the Indiegogo campaign have not been directed to Pedro's care. Pedro's care was paid for by the generous donors of the Toronto Humane Society."
The Toronto Humane Society also announced in the release that the organization has contacted the authorities about the project after it received questions from potential donors and an email from one of the funding organizers that caused them some concern. "The Toronto Humane Society will not accept funds that are raised under false pretense and therefore will not accept the funds raised through the Indiegogo campaign."
According to the organization's executive director, Barbara Steinoff, revealed to The Star that there has yet to be any funds given for the treatments. "The Toronto Humane Society was in no way connected to the Indiegogo campaign."
The Toronto Humane Society also shared in the press release that Howard will remain first in line to adopt Pedro and Deleo said that there is no concern about Howard's ability to care for him. "Our issue is with the Indiegogo campaign and the campaign administrator."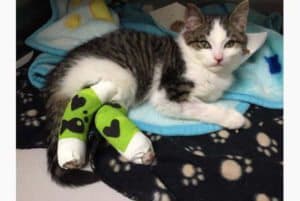 Spokesperson of the Toronto Humane Society, Makyla Deleo noted, "Our veterinarians are happy with [Pedro's] progress thus far and his mobility continues to improve, but he is still in need of regular medical attention. Up to this point we have undertaken all of Pedro's care and all costs associated with this care, and we will continue to do until he is fully healed."
Noting the costs have only hit $1,000, Deleo explained, "Our veterinary team does not feel that there will be any additional costs borne by the adopter once [Pedro] has healed from his initial injuries, other than routine vaccinations, food, liter, etc."
Canada's City News then reported that Toronto police contacted Howard on Friday and stated that there would be no fraud investigation conducted at this time. This is due to the fact that the money has yet to be released from Indiegogo, so there hasn't been any fraud committed by the campaign's creators.
Howard shared, "I've never been so happy to have the police call me."
Have a crowdfunding offering you'd like to share? Submit an offering for consideration using our Submit a Tip form and we may share it on our site!