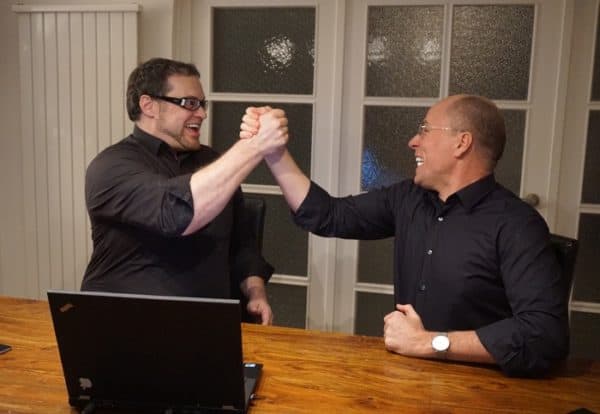 Given the speed at which Kraftwerk charges USB-enabled devices—within three seconds—perhaps it's no surprise that Kraftwerk, the world's smallest power generator, had more than 4,500 backers worldwide, collecting some $600,000, within days of launching its Kickstarter campaign. It was also chosen as a Kickstarter Staff Pick.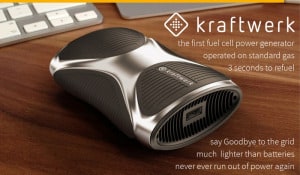 The pocketsize charger uses fuel cell technology to directly convert camping fuel or lighter fluid into electricity, which can then be used to recharge your device. One refill of Kraftwerk, created by eZelleron Inc., can supply enough energy for 11 iPhone charges, regardless of where they take place: "while walking, hiking, sailing or in a bag [would that be you or Kraftwerk in the bag?]," according to the campaign's FAQs. The charger is also Federal Aviation Administration (FAA)-approved for carrying in an aircraft cabin.
Kickstarter chose Kraftwerk's campaign as a staff pick, and as of publication time, it had 4,906 backers, with $618,322 pledged of its original $500,000 goal. Forty-nine days remain in the campaign, and according to the company's latest Jan. 10 update, stretch goals are in the works. According to Kraftwerk's Jan. 14 press release, "If the [$1M] mark is reached, the company will add a special engraving to all kraftwerk devices ordered on kickstarter.com. If funding reaches [$2.5M], there are even plans for an exclusive Pioneer edition which can only be ordered during the crowdfunding campaign."
"We are delighted at the positive response we have had from all corners of the world. We have already received more than 6,000 pre-orders from the US, Europe and Asia. This high level of interest also demonstrates that there is a significant demand for off-the-grid solutions all over the globe," said Dr. Sascha Kühn, president and founder of eZelleron Inc, a spin-off company of Fraunhofer Gesellschaft based in Dresden, Germany. Kraftwerk's concepting began in March 2008, according to the timeline posted on its campaign website.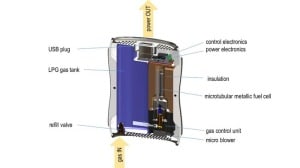 According to Kraftwerk's Kickstarter campaign website, the product has a continuous power output of 2 W, with 10 W peak power and an output voltage of 5 V. It weighs just 160 g empty, and 200 g full, and measures 3.94 x 2.95 x 1.18 in. Currently, Kraftwerk is available in three different color combinations: urban, outdoor and glam. eZelleron GmbH plans to ship the prototypes at the end of 2015.
Because Kraftwerk relies on fuel cell technology, users are completely free from connecting to the power grid to recharge the device. Unlike many other types of chargers, it is fully independent of any wall outlet. And because it offers a high energy supply, Kraftwerk would be ideal for the traveler who wants to disappear (for a few days) into the wild blue yonder without losing the ability, in short order, to call for help in an emergency, take photos, play Words With Friends, etc.
Have a crowdfunding offering you'd like to share? Submit an offering for consideration using our Submit a Tip form and we may share it on our site!