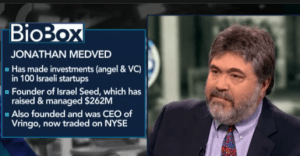 OurCrowd founder and CEO Jon Medved practically has a regular gig at Bloomberg.  He recently did several sessions at the financial news network tackling a diverse group of topics such as the price of oil and self-driving cars.  In this discussion with Trish Regan on the "Loop", Medved is more on his home turf hammering on some of his consistent themes regarding venture capital.  He affirms that this is not like "1999 all over again" with a tech bubble occurring.  Is it a good time to be investing in tech? He gives a qualified yes contingent upon your investment time horizon. He also hammers home that today you don't have to have a Silicon Valley address to participate in a hot investment opportunity anymore as the game is being "democratized".  Medved also highlights the booming Israeli startup seen saying $3 billion was invested in young companies in 2014 alone.
Medved touches on ReWalk – one of the first companies to list shares publicly that initially raised capital equity crowdfunding. ReWalk is one of OurCrowd's portfolio companies and ReWalk went public on NASDAQ late last year.  The shares rocketed up in price on the very first day generating a pretty nice return for early investors. In reality the true test of investment crowdfunding is the aggregate return delivered to investors.  With the process being so new – there does not exist much empirical data but this too shall soon come and ReWalk will be one for the win column.
Medved draws a comparison to the Lending Club IPO stating 2, 3 years down the road OurCrowd, and other companies like theirs, will have billions of dollars in investments.