Shanghai-based online financial services firm Dianrong.com stated it has entered into an investment agreement with Northern Light Venture Capital (NLVC), under which the company has received "tens of millions of dollars in investment from NLVC".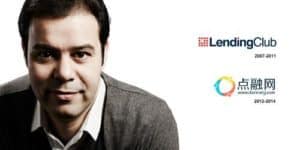 Dianrong.com states it has become a fast-growing peer-to-peer (P2P) lending website since going live in March 2013. As of the end of November 2013, the firm claimed an aggregate trade turnover of more than 100 million Yuan (approximately US $16.5 million) and captured more than 10,000 registered investors. Dianrong.com states that it has differentiated its platform from other P2P lenders by making technology and risk control the foremost priority.
Since public launch in March 2013, Dianrong.com platform has yield an overall portfolio return of 16.7% (after fees and NLPs). The company offers free portfolios tailored to each investor's appetite for risk, with an optional investment lifecycle of 6, 12, 18 or 24 months.
NLVC managing director Yang Ruirong said,
"We have been keeping a watch on the development of the internet finance industry. The rapid development and adoption of internet technology have made inclusive finance a possibility. As an important part of internet finance, P2P has to some degree filled the financial service gap and further improved the financial system. China's P2P market, now estimated at 20 billion yuan (approx US$3.3 billion) to 40 billion yuan (approx US$6.6 billion), is far from huge. Meanwhile, we notice that the industry is growing at an annual rate of more than 300% and is on track to witness explosive growth during the next five to ten years." Yang added, "We chose to invest in Dianrong.com because of its highly professional team as well as its consistent and compliant business model. Dianrong.com is a secure investment platform with stable returns and high liquidity. With the improvement of China's ability to conduct standardized credit background checks, implementation of regulations and the industry itself, such a sophisticated and strong P2P platform will no doubt go further."
Dianrong.com CEO and founder Soul Htite said,
"China's fast growing and rapidly changing economy represents the perfect environment for modern business models empowered by technology to be quickly adopted. For instance, China is home to 42 million SMBs representing 99% of the country's enterprises. They contribute to 60% of the GDP and 50% of tax revenue and still only 10% of them will receive funding from banks." Htite added, "Our ability to efficiently and rigorously underwrite creditworthy borrowers and let thousands of lenders invest in them directly has created an extremely positive experience. Our borrowers can now receive their funds in days compared to few weeks with banks, and our lenders can generate returns well over traditional investments that are usually complex and not predictable. Using our online technology with little to no training, our lenders create well-diversified portfolios by investing in hundreds of borrowers that are not correlated to each other. Our current platform average return is around 16%."

Dianrong.com continues to emphasis its credibility and experience.  In a fast growing industry that has seen more than a few failures and questionable lenders, Htite's association with Lending Club has played well in the nascent marketplace.