The Monetary Authority of Singapore (MAS) has released a document outlining the proposals to introduce investment crowdfunding in Singapore.  Comments are being accepted on the consultation paper until March 18th.  The widely expected publication is in recognition of the shift from traditional forms of finance to alternative sources of funding leveraging the ubiquitous nature of the internet.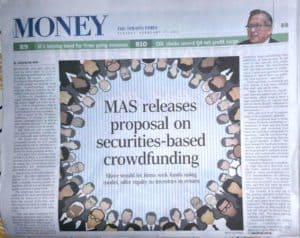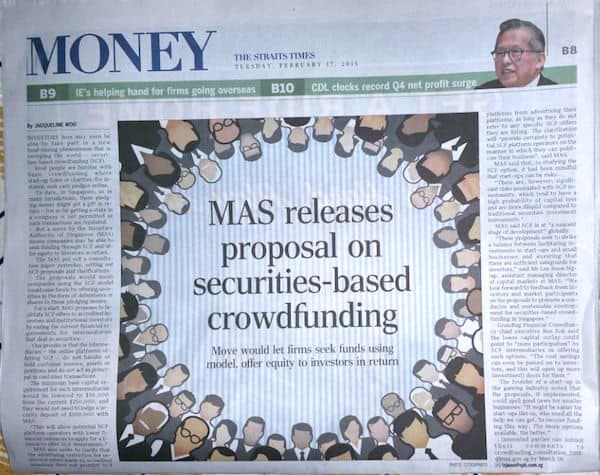 The document titled "Facilitating Securities based Crowdfunding" seeks to relax certain rules to aid in funding startups and small and medium sized businesses (SMEs).  In Singapore about 70% of the entire workforce is employed by SMEs.  MAS noted the current regulatory environment was not conducive to streamlining investment crowdfunding while highlighting the associated risk involved in participating in these types of securities.
Although a growing number of nations in South East Asia are formulating crowdfunding rules, securities crowdfunding is still in a very early stage of development. Therefore MAS proposes that initially only accredited investors and institutional investors will be allowed to participate in these offers.
MAS proposes:
To ease the current financial requirements for intermediaries that deal in securities, so long as they do not handle or hold customer monies, assets or positions and do not act as principal in transactions with customers1. This will allow potential SCF platform operators with lower financial resources to apply for a licence to offer SCF investments.
MAS clarifies that the advertising restriction for restricted offers made to accredited investors (AIs) (that are exempted from the prospectus requirement) does not prohibit SCF platform operators from advertising their platforms, so long as reference is not made to any specific SCF offer listed on their platforms. This clarification will provide certainty to potential SCF platform operators on the manner in which they can publicise their business.
Lee Boon Ngiap, Assistant Managing Director, Capital Markets, MAS, commented on the proposals;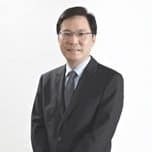 "These proposals seek to strike a balance between facilitating investments in start-ups and small businesses and ensuring that there are sufficient safeguards for investors. We look forward to feedback from investors and market participants on the proposals to promote a conducive and sustainable environment for securities-based crowdfunding in Singapore."
MAS is the central banking authority of Singapore.  The objective of the entity is to promote sustained, non-inflationary, growth.
Earlier this year the Singapore Exchange announced they would launch a crowdfunding platform to aid in raising capital for SMEs.
H/T HongSin Kwek
[scribd id=255922256 key=key-fhE0Jhlpg2KDRyg27Y1G mode=scroll]