This past fall, Abbeville, Louisiana woman by the name of Fallon Mouton raised $4,600 through GoFundMe campaign supposedly for a Texas man, Moses Perez, who recently lost his fiancée, Jessica Rodriguez, due to giving birth complications. The funds were to help the family "make ends meet."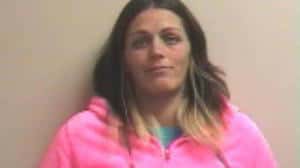 Unfortunately, Mouton was actually scamming donors and using the story to steal from unsuspecting supports of the grieving man. She took off with $4,600 and was eventually arrested in November. She is now being charged with theft.
While Mouton didn't know the family, her only connection was that she is the sister of one of Rodriguez's co-workers. While revealing his thoughts about the campaign, Perez shared, "I figured it was just a helping hand out there looking out for one another."
Now, according to Louisiana news station KATC, court records have shown that the grand jury in Williamson County, Texas did not charge her with felony online impersonation, which is the charged cited in her arrest. Instead she was charged for theft.
Assistant district attorney, Brent Webster, stated the theft fit the alleged crime better than the online impersonation due to Mouton not impersonating anyone (other than a supporter of Perez). She made no attempt to disguise herself and even used her own name to set up the campaign. He added, "It's kind of hard if you're not impersonating anyone to be charged with impersonation."
Theft in Texas between $1,500 and $20,000 is considered a state felony. If convicted, Mouton will face anywhere between six months and two years in jail along with a fine up to $10,000.
GoFundMe and WePay reportedly told police that nearly 85 supporters donated the $4,600 and it was all withdrawn between September 1st and 6th. The crowdfunding platform stated in an email, "Unfortunately, the full balance of the campaign in question was withdrawn by the account holder before we received the complaints, which is why the matter is now in the hands of local law enforcement."
The funds were routed to a WePay account that was registered to Mouton and accessed 45 times by a computer in Abbeville. Police chief of Taylor, Texas, Henry Fluck revealed that Mouton allegedly admitted that she kept the funds.
Have a crowdfunding offering you'd like to share? Submit an offering for consideration using our Submit a Tip form and we may share it on our site!