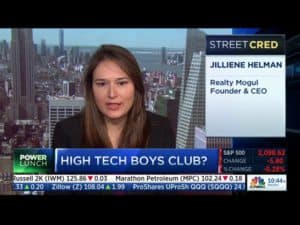 With the ongoing trial of Ellen Pao, formerly of Kleiner Perkins and now interim CEO of Reddit, and her gender discrimination accussations, there has been a lot of media coverage on the issue of women in business – specifically tech. The results of the trial will be known soon enough and while Pao's allegations have highlighted the issue – it is not necessarily indicative of all situations. Earlier today CNBC invited Kay Koplovitz, of Koplovitz and company, along with Jilliene Hellman, founder and CEO of real estate crowdfunding platform Realty Mogul, to add their perspective to the environment for female executives.
Koplovitz states there is a lot of bias in the Valley, either intended or unintended, and it needs to change.  Kay adds that she has not really experienced gender discrimination herself. Hellman, from her point of view, states she has personally not experienced any discrimination. Hellman says entrepreneurs [regardless of gender] thrive on adversity and the need to outperform. Hellman asserts that this is a necessary conversation though, regarding equality and women in tech.  She wants to see more women involved.
Some believe that Pao's case may engender more gender bias lawsuits in Silicon Valley.
The discussion is embedded below.