Last month, singer and songwriter Amanda Palmer launched a crowdfunding campaign on Patreon to raise funds for her upcoming projects, which consists of making new art and traveling to Berlin, Germany to record an album in German.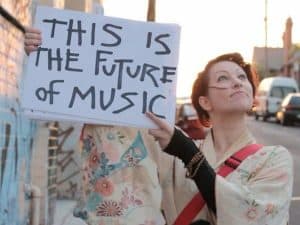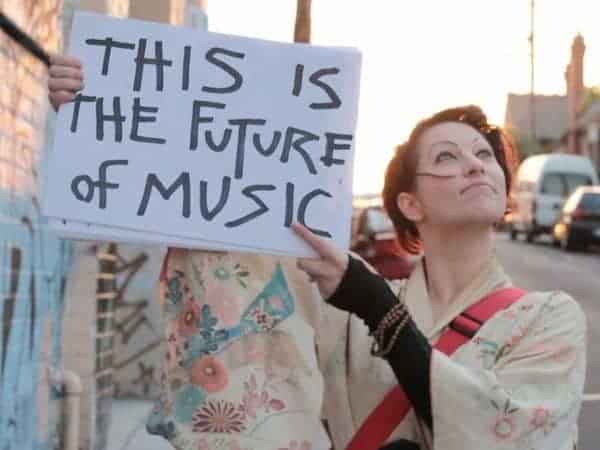 The new projects surfaced just two years after she captured over $1 million dollars on Kickstarter for her first studio album, but also a tour and art book. Now, Palmer is ready to share more details about her career and why she decided to turn to the funding method.
During a recent interview with Forbes, Palmer discussed her crowdfunding experience:
"In retrospect, I got into making music primarily because I wanted to find a community of artists to connect with, much more than I wanted to be famous and win a Grammy. That fundamental motivation of wanting to find connection with people led me to run my life the way I saw my punk heroes and my folk heroes running their lives, which was coexisting with their fan bases instead of pretending to live far above them.

"The thing that the public seems to be perpetually unaware of is the amount of unsexy work that goes into running a band. At a certain point, if you achieve any amount of success it is nearly impossible to run any kind of career without help. That help can come in a million forms, but if you're running your business the standard way it comes in the form of a manager, a publicist, an agent, a lawyer, and so forth. We went down that route pretty early on, but I found my particular major label to be a pretty terrible collaborator. I escaped that particularly bad collaboration. At that point, I had been running the band business long enough that I felt like I was probably, given who I was and given where I was aiming, it seemed like a wiser idea to four-wall my career than to try to sell it off to others to capitalize on."
Kind of revealing more info about the aftermath of her messy breakup with her former label, Warner's Roadrunner Records, Amanda stated:
"Once I left Roadrunner, I was on a journey with no roadmap. I took experiments. For a few years I just experimented at every turn. A lot of my album projects became sacrificial lambs deliberately to understand how business worked directly on the Internet. For instance, my first totally off-label offering was an album that I knew I could sacrifice because it was a really fun stupid project of Radiohead covers that could afford to fail. I wasn't throwing my own songs under the bus.

"I was doing these really creative arrangements of Radiohead songs, but they were really beautiful arrangements and I knew the fans would love them. I was really excited to experiment with proto-crowdfunding. I built a page on my website. I asked everybody to pre order the album and I printed to order. I got $100,000 of pre orders. This was four years before Kickstarter. This, of course, didn't make headline news because I didn't send out a press release. I just did it.

"No one knew about those numbers, except for my office. Then we had to go through the trials and tribulations of learning how to be a record manufacturer. Being a record label and record manufacturer and distribution center for 1,000s of fans who have ordered merchandise is a pain in the ass. A lot of artists don't want to do it. This is the secret negative underside of Kickstarter that so many artists have phased in the past four or five years. At the front end of your Kickstarter there's explosion of enthusiasm and this giant shiny number. As the year wears on and the project wears on and the management of it is a pain in the ass and your shipping costs were unpredictable and a bunch of things broke in the mail, you realize how handy it is to have somebody else doing this work for you…

"Most importantly, and this is the thing that I always try to stress when explaining this stuff to people because I think it can really easily get overlooked in the romance of the story, but I talked with my f—ing fans every day for seven years. There was practically not a day that I wasn't online on Twitter, on my blog, and in discussion with my fans in real life. We talked about the experiences, about what they wanted, about what didn't work, about what pissed them off. That's irreplaceable knowledge. … The same thing has just happened with Patreon. … The dirty secret of my Kickstarter is that it was actually a loss leader leading to Patreon. I pretty much broke even on that Kickstarter. I did it almost deliberately because I wanted my fans to trust the shit out of me and they do."
In regards to her "haters," who suddenly appeared after she launched her Kickstarter, Palmer noted:
"They were never supporting me to begin with. Honestly, the huge revelation, it's almost painful to truly realize just in [recently] launching the Patreon, is how very little the mass media is relevant or helpful to my cause. Even with my Kickstarter I hired a publicist. I did a press release. I did a gazillion interviews. It may have gotten a few interested people on board with Kickstarter who perhaps would have ignored it, but with the Patreon it is such a committed relationship. You have to already know and trust the shit out of me to get this far into bed with me. As happy as I am to chat with FORBES magazine, it's pretty unlikely that some guy on an airplane reading his copy is going to read this and rush off to sign up to my Patreon."
Have a crowdfunding offering you'd like to share? Submit an offering for consideration using our Submit a Tip form and we may share it on our site!