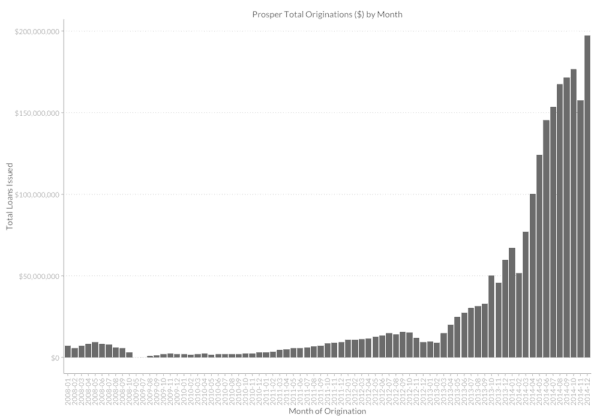 Orchard has just published a new analysis of consumer credit trends and repayment performance for the marketplace lending (P2P) industry. Orchard is a service provider that connects investors to direct lending assets so they have great access to data on the nascent industry.
Orchard notes that traditional lenders went out of their way to boost lending leading up the the financial crisis in 2008;
"we saw many traditional [non P2P] originators relaxing their credit standards in order to increase origination volumes. This approach was often cheaper than the expense of marketing to and acquiring more creditworthy borrowers, but as we saw, the outcomes can be disastrous."
Orchard asserts that credit characteristics, always at the forefront when investors look to put money into loans, have remained rather good in the direct lending sector. Marketplace lenders have been able to increase loan volumes, without experiencing a degradation in credit quality. This is due, at least in part, because they represent such a small portion of overall consumer lending and demand from borrowers remains strong.
According to Orchard;
"We're now 4 months into 2015, and the consumer marketplace lending industry has continued to grow rapidly. In order to fuel increased investor demand, we've seen rapid growth in origination volumes across marketplace lending originators."
Prosper, the 2nd largest marketplace lender in the US, facilitated over $197 million in loans in December 2014 – an all time high.  This was an increase from just $58 million in December 2013. The December amount jumped in contrast to November by over $40 million.  Q1 2015 data from Prosper is not yet available but it will be interesting to discern if the trend has continued.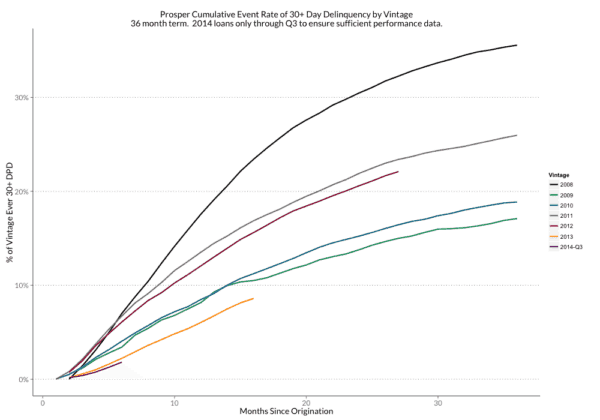 Overall credit quality for Prosper loans remains quite strong with 2013 being the best "vintage" to date and 2014 tracking 2013 quality quite closely.

Orchard reviews FICO scores as an indicator of credit risk and their data shows the Prosper metric remaining stable.  Their review shows a moderate increase in credit quality over time, measured by the FICO score – something that is qualified as "not easy" and indicative of "careful underwriting by Prosper.

Sponsored Links by DQ Promote