Seeking to help those who are less unfortunate (and the organizations that support them), former UK glamour model, mother of two,and full-time blogger, Tracy Kiss, launched crowdfunding campaigns on GoFundMe and YouCaring to raise £10,000 for 10 amazing charities before her 28th birthday this October.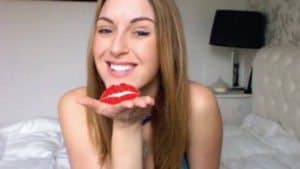 Unfortunately, Kiss has been dealing with some drama concerning the "rewards" she has posted on each campaign. Reportedly, the model has offered those who were willing to donate £10 or more pictures of her topless. This caused both crowdfunding platforms to shut down the campaigns.
Revealing her frustration towards GoFundMe, Kiss told Mirror:
"I was shocked when GoFundMe closed my fundraising page because of my controversial photo content violating their terms and conditions, which was a single topless photo that I'd censored by emoji hearts so didn't actually expose anything. Bearing in mind a 12-rating in the cinema allows children to view topless images and nudity and simulate sex and violence; I presume the majority of the public using donation sites are well above the age of 12. Charity shows such as The Full Monty and Calendar Girls showing men, women and pensioners stripping for charity is well received by the public."
She also went on to write a very lengthy response to the platform on her blogging website:
"Sadly after I reached my first £1,000 through my GoFundMe page my account was very bluntly shut down without warning by the GoFundMe staff who advised I had breeched their terms and conditions by posting an unacceptable photo to my page which was a picture of my breasts censored by big pink cartoon hearts saying 'thank you' to my donors. I had no way to reinstate my page and so I transferred the funds to a new YouCaring page where I didn't post any photos because I didn't want the same thing to happen again.

"It's not my intention to offend, upset or discriminate against anybody, I don't want to devalue any users experiences of charity fundraising sites, but it was what my followers asked of me and so I listened and obliged in exchange for their generous donations. Afterall, thousands of men and women of all ages take part in wacky fundraisers on a daily basis, from local football clubs doing the full monty to pensioners posing naked for charity gardening calendars, shaving heads and waxing delicate body parts, doing moonlight walks and relays in just a bra and jeans or dressing up in crazy and hilarious outfits.

If a child did a sponsored sing or dance and was off-key with a little trembling voice from nerves or messed up the steps and forgot the routine would you say they weren't good enough and retract your donation? Of course not, this isn't Britain's Got Talent, it's the thought that counts and we're saving lives. In my eyes if you're willing to go out of your way to help others then no matter what you choose to do for sponsorship, be it big or small, is greatly appreciated by those who receive it and it's something to be encouraged not punished.

Censoring my pictures online didn't expose my breasts to the unsuspecting public, but gave my donors some idea of what to expect as a thank you should they choose to request it as their sponsorship is for my bucket list challenges. I have no problem with sunbathing topless on a beach with the hundreds of women whom I've never met before on holiday, so why shouldn't I share a snap upon request as a thank you to those who have donated to my fundraising cause? Mens magazines costs just a few pounds and contain sexually provocative photos of very beautiful and confident women earning a modelling salary, I'm just a mere mother with a camera phone and a big heart for helping others."
Also responding to YouCaring's actions, Kiss added:
"So I was more than a little disappointed when my YouCaring page was shut down without warning after a member of YouCaring staff emailed me again very bluntly to say that I had breeched the terms and conditions by offering topless photos for each donation. However this time I was able to receive a few reply emails from the member of staff who had shut it down in the hope of them reinstating my page. I explained that I hadn't posted any photos at all to my fundraising page and that it wasn't my intention to offend anybody, simply to raise funds for charities that are close to my heart, as is the purpose of using their site.

"I reiterated that the donations I'd received were for sponsorship of the bike ride, mountain climb and sky dive that I am undertaking and that my social media fans requesting photos is no reflection upon YouCaring or their site as I had no activity of it on my page."
Refusing to give up on her project, Kiss announced that she has decided to go to Crowdfunder UK for funding help:
"Unfortunately my words fell on deaf ears, or blind eyes as it was via email as they had provided links to my Facebook page thanking people for their donations, and after I received the same robotic response repeatedly I decided to set up my third fundraising page with CrowdFunder, third time lucky let's hope!"
Although the new campaign has only raised £186 out of its £10,000 goal, Kiss revealed that she has raised the following:
£1,000 for WheelPower to assist disabled men, women and children in sports rehabilitation and equipment: She plans to cycle 60km in June for donor's sponsorship.
£1,000 for the Firefighters Charity for servicemen and women who have been injured in the line of duty whilst risking their lives: Kiss will be climbing Mount Snowdon in July for donor's sponsorship.
£700 for Stoke Mandeville NICU for newborn babies in intensive care, equipment, facilities and treatment: She needs £300 before she will do a skydive for your sponsorship and hand over the cheque.
The other seven charities have yet to be determined (Kiss is expecting fans/donors to offer up suggestions of where the funds should go).

Have a crowdfunding offering you'd like to share? Submit an offering for consideration using our Submit a Tip form and we may share it on our site!

Sponsored