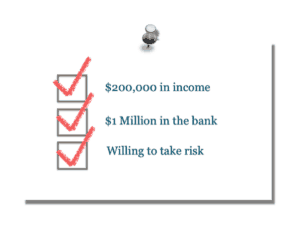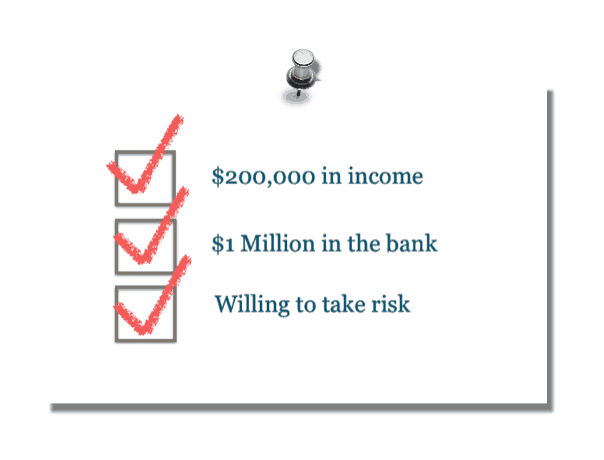 The current definition of an accredited investor is something that has been in use for decades.  Basically the rule defines who may invest in certain private placement securities offers. In general you need to be earning over $200,000 a year ($300,000 if married) or alternatively have a net worth of $1 million or more (not counting primary residence). Because of the financial parameters as assigned, only a small proportion of individuals are able to invest in early stage companies thus excluding the vast majority of the population.  The philosophy is based on protecting smaller investors: if they have enough money they can afford to take a hit.  This simplistic approach has come under growing scrutiny as it has determined sophistication as being measured by an individual's bank account. As most level headed folk know, money does not equal wisdom nor ability. This error in policy has disenfranchised many who have the capacity to evaluate investment opportunities without the government holding their hand.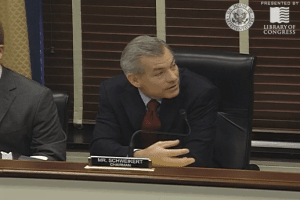 A few weeks back Congressman Schweikert (R-AZ) introduced a bill that may address this issue. HR 2187 or the Fair Investment Opportunity for Professional Experts Act would create a path for a much larger group of people to decide if they want to invest their hard in money in private offers.  Some of these securities ARE risky – but with greater risk there is potential for greater reward.
Schweikert's bill effectively makes financial professionals and attorneys accredited by default.  Makes sense.  If they are advising other people on financial matters you would hope they have a modicum of financial acumen.  Even more interesting is the bill would mandate a new test, to be administered by FINRA, for individuals to be certified as Accredited.
The bill has been referred to the House Committee on Financial Services.  No date on when (or if) it will be entered for debate.
See the bill below.
---
[scribd id=267954646 key=key-j4moWiBfogS04kTpPuZa mode=scroll]

Sponsored Links by DQ Promote