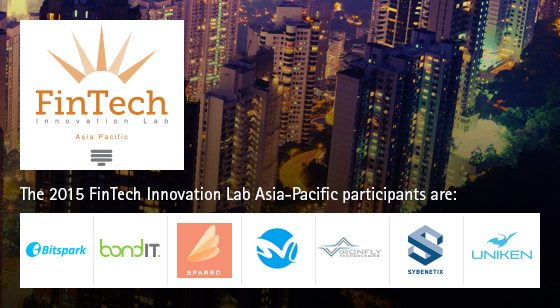 Cyber-security solutions, blockchain technology and behavioral analytics applications are some of the innovative services being developed by the seven financial technology entrepreneurs selected this year to participate in the 2015 FinTech Innovation Lab Asia-Pacific. Launched by Accenture (NYSE:ACN) in Hong Kong in June 2014, the FinTech Innovation Lab Asia-Pacific is a collaboration between Accenture and a dozen leading financial institutions – Bank of America Merrill Lynch, China Construction Bank (Asia), China Citic Bank International, Commonwealth Bank of Australia, Credit Suisse, Goldman Sachs, HSBC, J.P. Morgan, Maybank, Morgan Stanley, Standard Chartered and UBS. Its purpose is to nurture early-stage companies from around the world that are developing new technologies for the financial services sector with a particular focus on the Asia-Pacific region. The Lab is supported by Cyberport, which provides workspace for the entrepreneurs during the program.
The seven startups were chosen from a wide range of applicants by leading industry executives. The selected startups will receive senior-level mentoring to help them develop and commercialize their innovations and connect with potential customers at top institutions.
"We're extremely impressed with the energy and enthusiasm the startups have demonstrated for creating solutions that are intuitive for customers, secure for financial institutions and cost-effective for everyone," said Jon Allaway, senior managing director, Financial Services at Accenture. "It's exciting working with the entrepreneurs because, like Accenture, they envisage a future where technology solutions not only arm financial institutions with far-more-sophisticated, fine-tuned data but also make everyday transactions simpler for consumers."
The entrepreneurs chosen for the Lab will be mentored for 12 weeks by leading executives from financial services firms through a series of panel discussions, workshops, one-to-one coaching and networking opportunities. At the end of the program, the entrepreneurs will be given an opportunity to present their concepts to potential investors and financial industry executives.
The 2015 FinTech Innovation Lab Asia-Pacific participants are: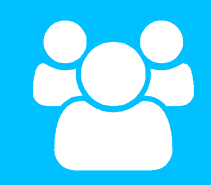 Bitspark– This Hong Kong-based startup has a remittance platform that uses bitcoin and blockchain technology to send and receive payments in emerging markets. Its integrated cloud-based web platform enables money-transfer operators and financial institutions to manage payment information, customer due diligence and real-time business analytics. Quick, cheap and requiring no bitcoin knowledge to use, Bitspark connects offline businesses (corner store remittance shops) and online businesses to unbanked customers via its on-the-ground network providers. Benefits include easy access to mobile-first markets, increased profits for money-transfer businesses, and reduced costs for customers. Bitspark is currently expanding its platform to more money transfer operators and financial institutions throughout Asia.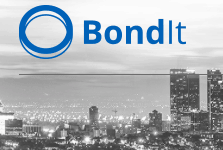 BondIT – This Israel-based startup's solution supports investment portfolio construction, optimization, re-balancing and monitoring. BondIT's intuitive software-as-a-service platform uses advanced machine-learning algorithms to easily construct yield/risk optimized portfolios that match a client's risk profile and can be managed by ratings, duration, yield, country, bond type, seniority-level and more. The system automatically monitors portfolios, reports performance and risk levels, and alerts users to market changes and constraint deviation, while allowing the portfolio manager to optimize investments using periodic rebalancing. BondIT seeks Asian expansion and looks forward to the banks mentoring them on regional client needs.

Ironfly Technologies – Founded by two biomedical engineers, this Hong Kong startup offers a platform that provides instant insight into real-time data, applying the latest research in neuroscience and cognitive psychology to make data fast, intuitive and visual. Geared to professionals working in constantly changing environments such as capital markets, Ironfly's platform delivers instant information leads to capture valuable opportunities previously missed. It hopes participating in the FinTech Innovation Lab Asia-Pacific will help expand its potential customer base.

Moroku – A Sydney-based startups seeks to make banking fun,  Moroku offers a mobile app for gathering, connecting and engaging people as part of its mission to close the gap on financial literacy and retirement planning through the gamification of banking. Deriving its name from a combination of "mobile" and "Puroko" – the Maori phrase for "gathering" – Moroku has developed pre-built mobile libraries coupled with cloud-based player management, analytics and integration capabilities to help banks develop rapid prototyping and deployment of digital banking experiences that are wired directly into their transaction systems. By doing so, Moroku enables banks to provide customers with timely, sensible solutions. By participating in the FinTech Lab Asia-Pacific Moroku seeks exposure to banks in Asia to expand its offerings in the region.
Sparro – The goal of this simple, fast and secure payment network from Australia is to make a cross-border payment as easy as a domestic payment. Built on the Ripple protocol, it is designed to support low-value, high-volume cross-border payments and reduce bank processing costs. Sparro's products are quickly deployable, cloud-hosted and provided to banks as a payment option for their customers. Customers can use the Sparro payment network for their cross-border payments from within their existing banking platform with no change to their current workflow. Sparro executives hope the Fintech Innovation Lab Asia-Pacific will help them focus their product on the needs of bank customers and help Sparro understand the current customer pain points in more detail.

Sybenetix – This enterprise behavioral analytics company that helps hedge funds, asset managers and banks systematically improve investment performance and conduct management at the individual, team and company level. Its multi-award winning team of behavioral scientists, mathematicians and technologists work with leading financial organizations in the US, Europe and Asia. Sybenetix is headquartered in London with a New York office. The Sybenetix team visited Hong Kong recently as part of its Asia-Pacific expansion strategy and wishes to expand its client base, and operating network while making Hong Kong its Asia-Pacific base.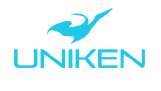 Uniken – This digital security firm with an innovation center in India has developed a patented on-demand, software-based scalable digital connectivity and access platform called REL-ID. The plug-and-play platform enables enterprises to create their own private digital network of things – REL-ID Dome – where digital assets are visible only to authorized users, apps and devices. Protecting digital interactions and data from unauthorized sources, REL-ID is an easy-to-use solution for end users and easy-to-implement platform for enterprises that have already been deployed at financial institutions and businesses in India and Israel. Uniken is looking to expand in Asia-Pacific, and so the FinTech Innovation Lab Asia-Pacific is an opportunity to gain access to established mentors in the region.

The FinTech Innovation Lab Asia-Pacific is modeled on a similar program that was co-founded by Accenture and the Partnership Fund for New York City in 2010. The Partnership Fund for New York City is the $115 million investment arm of the Partnership for New York City. The Fund's mission is to engage NYC's business leaders to identify and support promising NYC-based entrepreneurs in both the for-profit and non-profit sectors to create jobs, spur new business and expand opportunities for New Yorkers to participate in the City's economy. Since that time, Accenture has launched other FinTech Innovation Labs in London (2012) and Dublin (2014). The New York FinTech Innovation Lab's 24 alumni companies have raised a total of $176 million in financing after participating in the program, and one alumni company was acquired last year for $175 million. The 14 companies that passed through the London program in the first two years raised more than US$35 million in new investment, signed nearly 50 contracts to do business with banks, and increased revenues by 170 percent. Participants in the Asia-Pacific Lab have thus far raised more than US$26.5 million.

Sponsored Links by DQ Promote