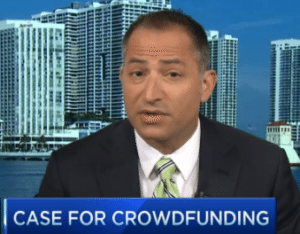 Shewood (Woodie) Neiss, co-founder of Crowdfund Capital Advisors, joined the studios of CNBC today – a visit that coincided with a visit by former Congressman Eric Cantor who happened to have published an Op-Ed on crowdfunding today.
Neiss spoke about Title II, accredited crowdfunding, and how it has helped to raise over $1 billion for thousands of businesses. But he also expressed his frustration regarding the status of Title III, retail crowdfunding, joining the chorus of many others.
Asked by Cantor as to why the bureaucrats are dragging their feet a bit, Neiss explained;
"My feeling personally is the SEC probably has bigger fish to fry and this isn't a priority for them."
Neiss spoke about the fears of fraud, which have been hoisted up the flagpole of crowdfunding by some regulators and politicians alike, remain unfounded around the globe today.
The video is embedded below.