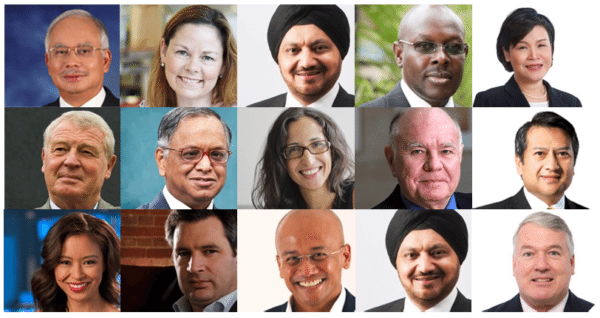 The Securities Commission Malaysia (SC) will be hosting big name global leaders alongside disruptive entrepreneurs at its World Capital Markets Symposium taking place in Kuala Lumpar in next week, September 3-4. Many of the speakers are internationally recognized names. Entitled "Markets and Technology: Driving Future Growth Through Innovation", topics of discussion include equity crowdfunding, peer to peer lending, bitcoin / crypto-currencies and more. The Prime Minister of Malaysia Dato' Sri Najib Tun Razak will be delivering a keynote address at this two-day gathering while SC Chairman Datuk Ranjit Ajit Singh will deliver the opening address.
Notable speakers include well-known personalities such as Paddy Ashdown, Member of the House of Lords and President of Royal Institute of International Affairs; NR Narayana Murthy, founder of Infosys and Dr Marc Faber, Executive Director of Marc Faber Limited.  Fintech disrupters addressing the conference include John Goodall, Co-Founder and CEO, Landbay UK; Chris Brycki, Founder and CEO, Stockspot; Theresa Burton, Deputy Chief Executive/COO Trillion, Co-founder Buzzbnk, Leo Shimada Co-Founder and CEO of Crowdo; Paul Schulte, Chairman of Schulte Research and Azran Osman-Rani, CEO of iflix Malaysia.
Malaysia has been at the forefront of facilitating new forms of finance in Southeast Asia having enacted a defined regulatory regime for investment crowdfunding earlier this year.  Both regulators and elected officials understand the profound importance of access to capital in generating a vibrant and sustainable economy.
Since its debut in 2009, the Malaysian symposium has become a regional flagship event has hosted some of the world's most prominent thought leaders from economics, finance, business, geopolitics and regulation. Past participants include, Dr Raghuram Rajan, Haruhiko Kuroda, Paul Krugman, Nouriel Roubini, Dr Laura Tyson, Dr Mark Zakaria, Lord Adair Turner and the Honourable Sheila C Bair.
This year's instalment will see a special session by eminent persons who have been involved in the architecture of the ASEAN Economic Community (AEC). The panellists will discuss the opportunities that could be harnessed and the challenges that need to be overcome to achieve the ambitious targets of the AEC. This Symposium is organised in partnership with Maybank, Nomura and Amundi Asset Management.