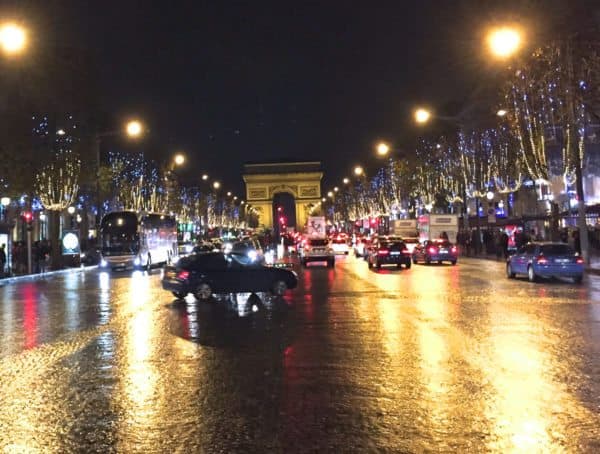 Financement Participatif France (FPF), the French national association of crowdfunding platforms has released the sector's market numbers for the first semester of 2015: a 100% increase from the same period last year. Results were said to be "encouraging" as France is still a very long way from catching up with the UK. Among the needed improvements, the association listed 15 regulatory hurdles and how to remove them.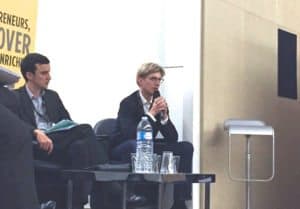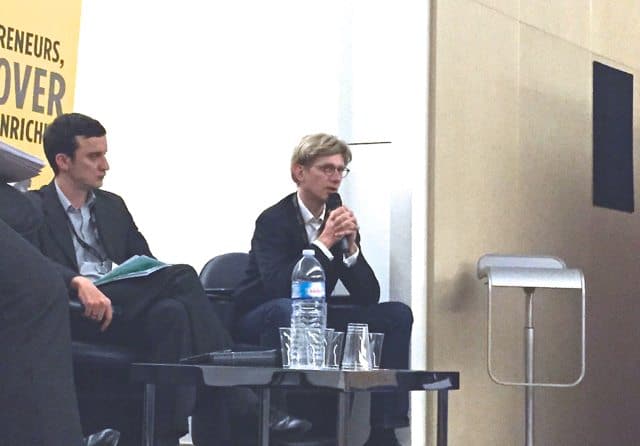 FPF now gathers 130 of France's approximately 160 crowdfunding platforms and represents an estimated 99% of the total funds raised through crowdfunding. Twice a year the association compiles the sectors numbers with the help of agency Compinnov. Nicolas Lesur, president of the association and CEO of crowdlending platform Unilend presented the results along with of Stéphanie Savel, CEO of crowdinvesting platform WiSeed, and Arnaud Burgot, Managing Director of reward-based crowdfunding platform Ulule.
During the first semester of 2015, French crowdfunding platforms raised €133 million worth of funds, more than twice the €66 million raised in S1 2014. Crowdlending grew 128% and, at €85 million, now represents nearly two-thirds of the total market. Crowdinvesting grew 147%. At €24 million or 18% of the total market, it just passed the more mature sector of donation and rewards-based crowdfunding which grew only by 24% semester on semester.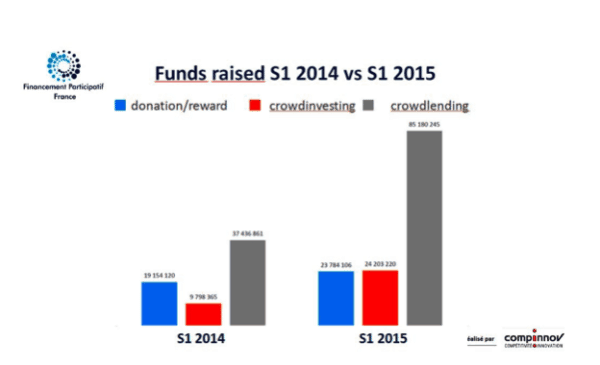 Some indicators such as the number of projects funded (12,193, a 13% increase from the first half of 2014) were not as high as they should be in regard of the increased number of platforms. Only a few platforms have already folded, or, rather, stopped operating. But France's economy is still weak and we can expect that the market will enter a phase of competitive turbulence that only the fittest will survive.
Among the positive developments, the president of FPF highlighted the growing share of co-investing by institutional investors, estimated at €15 million.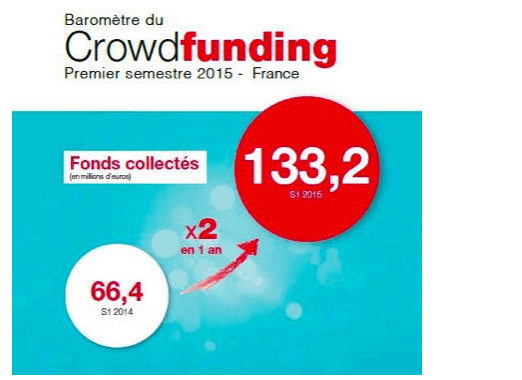 All in all, the sector's healthy growth was labeled "encouraging" rather than great. France's crowdfunding started later and remains far behind the UK's which is 15 times bigger and still growing strong. The 2014 crowdfunding regulation gave the French market a boost but now that other countries are catching up with favorable regulations, France runs the risk of falling behind. The FPF association is therefore looking to the government to remove some of the remaining regulatory hurdles that hamper growth and innovation. To that end, it has proposed 15 regulatory changes which revolve around the following themes:
Enlarging the pool of potential fund sources and recipients by allowing institutions, public administrations and corporations to engage in various types of crowdfunding from which they're currently banned.
Removing various limitations on the size and duration of loans and investments.
Lessening the burden of administrative processes – some of which, such as the registration of commercial papers, are still required to be done in paper form instead of online.
Enlarging the set of instruments that can be handled by platforms to include securities such as preference shares, convertible bonds, commercial papers…
Granting to crowdlending and crowdinvesting income a fiscal status that recognizes the lenders' and investors' risk. Crowdlending income, for example, is currently assimilated to fixed interest income for tax purposes!
Given the important role of crowdfunding in supporting small and medium-sized businesses, the association is confident that the French government will be receptive to its proposals.
---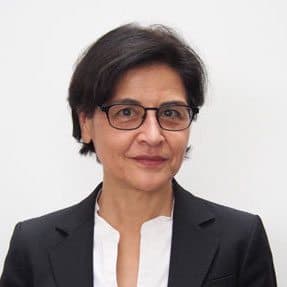 Therese Torris is an entrepreneur and consultant in eFinance and eCommerce based in Paris. She has covered crowdfunding and P2P lending since the early days when Zopa was created in the United Kingdom. She was a director of research and consulting at Gartner Group Europe, Senior VP at Forrester Research and Content VP at Twenga. She publishes a French personal finance blog, Le Blog Finance Pratique and curates crowdfunding news on Scoop.It.