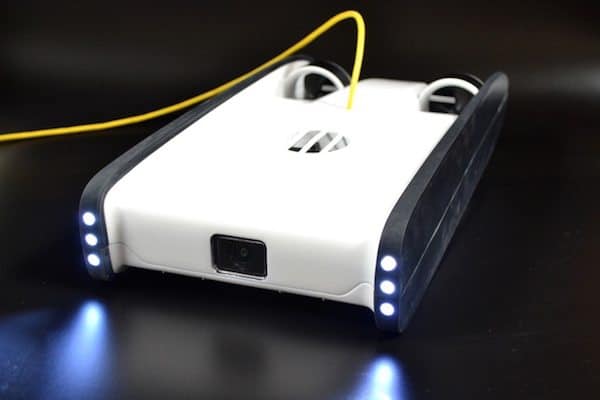 Earlier this week, San Francisco tech startup OpenROV launched a crowdfunding campaign on Kickstarter to raise $50,000 for its new underwater drone, Trident.  The project is pretty much killing it having quickly topped $450,000 with the support of 685 backers. The funding effort has 42 days to go. In a backers update, the OpenROV team said their "heads are still spinning after reaching our goal in the first 5 minutes".  The early bird deals were quickly scooped up. The first tier at $599 went quickly as did the $799 tier. Interested supporters have to pony up $949 – but already a good number have committed to pay for a November 2016  delivery of the Trident.
OpenROV shared:
"After four years designing and piloting underwater drones, we've taken everything we've learned and completely re-imagined what an underwater drone could be. Trident has a unique design that combines the versatility and control of an ROV (Remotely Operated Vehicle) and the efficiency of an AUV (Autonomous Underwater Vehicle). It can fly in long, straight survey lines called 'transects' as well as perform delicate maneuvers in tight spaces, all while maintaining a sleek and powerful form factor."
The company then revealed that Trident is easy to use and comes ready to go. Its features include:
Tether: The thin, neutrally buoyant tether sends live video and telemetry back to the surface.
Thrusters: Unique three thruster design allows for both high speed and precision control in tight quarters. Thrusters are custom DC brushless motors, specially built for working in salt water.
HD Camera: On board camera sends live video to the topside wifi buoy.
Lights: Embedded LED lights allow illuminate areas that are too deep for light to reach or while driving at night.
Hydrodynamic Shape: The body design of Trident helps to track in a straight line across long distances.
Overmolded Frame: The outer frame is overmolded rubber making the ROV more rugged and able to withstand impact.
OpenROV then noted:
"Every aspect of the Trident design has been painstakingly thought out in order to optimize performance and usability in any situation. One of the secrets of its versatility is the unique, hydrodynamically offset thruster design. This configuration allows you to move through the water fast and efficiently when you want to rapidly search an area or run a transect, but also allows you to maneuver very delicately when in tight quarters or while looking at a particular target.

"By taking advantage of drag's exponential relationship with velocity, the off-center vertical thruster of the ROV can cause it to pitch at high speeds but also hover or change depth without pitching while operating at low speeds – similar to the way a traditional ROV works."
Check out Trident's view below.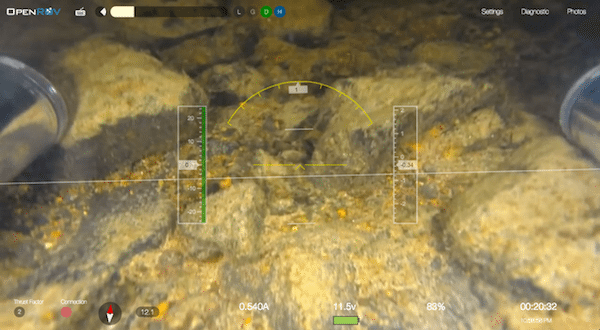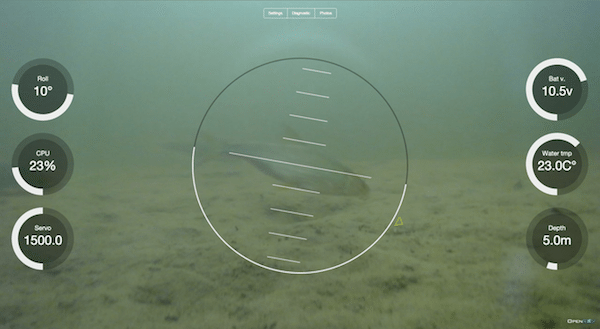 Also explaining its previous crowdfunding success, OpenROV stated:
"You may remember us. We came to Kickstarter three years ago and shared our dream of building a low-cost underwater robot that would allow anyone and everyone to explore the world below the surface. We have come a long way since that initial Kickstarter video. 

"We were working out of Eric [Stackpole's] garage at the time, building the original prototype to explore a cave in Northern California with rumors of lost treasure (the full story can be heard in this TED talk). We never found the gold, but we received messages from people all over the world who wanted to help us and improve the robot. The Kickstarter project was the springboard. Since then, we've shipped thousands of OpenROV kits to people all over the world."
Those that back the project and purchase the basic package will receive the following:
A 25m (82 ft) tether. There's a lot to see in the first 25m of depth. For many people, that will be enough. Tethers will be removable and upgradeable if you need to go deeper.
A wifi topside buoy. The tether connects to a wifi topside buoy. You can use this to control the ROV remotely by setting it on the water or just leaving it on the boat or dock. 
Batteries. Trident comes with onboard LiFePO4 batteries, providing a run time of over 3 hours.
Trident is now available for $949. The project is set to close its Kickstarter on October 31st.

______________________________________________

Have a crowdfunding offering you'd like to share? Submit an offering for consideration using our Submit a Tip form and we may share it on our site!

Sponsored Links by DQ Promote