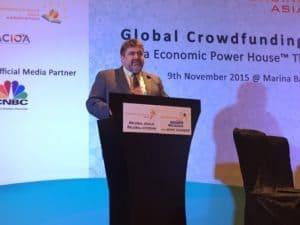 Jon Medved, founder and CEO of equity crowdfunding platform OurCrowd, caught up with CNBC while at the Crowdfunding Asia conference in Singapore this week.  Medved explained in an interview that OurCrowd wants to provide access to the smart investor into deals in which they have previously been denied.
OurCrowd is a global investment crowdfunding platform that invests alongside the likes of Andreessen Horowitz, Sequoia and Mark Cuban.  Medved states that "today all of the action is in private companies".
Most all successful startups remain private as long as possible due to costly over-regulation. This means once a company finally decides to list on a public exchange most of the wealth creation has already been claimed by VC's and big money leaving little for the smaller investor.
OurCrowd is a leading example of what investment crowdfunding can accomplish – if allowed. The platform invests their own money side-by-side with smaller investors giving greater assurance to a smaller investor that significant due diligence and vetting has been completed. A bit of a VC hybrid model, it is this approach that has been recognized as perhaps the leading model in driving investor returns via equity crowdfunding.
Watch the video below.