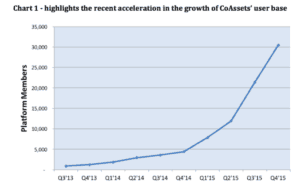 Real estate crowdfunding platform CoAssets is highlighting platform growth. According to a report from the Singapore-based company, registered users now exceed 30,000 having grown 30% in November alone.  Founded in May of 2013, initially 100% of users were from Singapore. Today that percentage has dropped to 67% as individuals from Malaysia, Indonesia, Australia, China and the Philippines have signed up. CoAssets did not disclose how many users were active investors.  CoAssets is publicly traded on the National Stock Exchange of Australia.
CoAssets believes their "exponential user base growth" in the last two years is based on the financial returns, reliability and ease of use of the CoAssets platform as well as the ability to gain investment exposure to property developments in South-East Asia.  CoAssets is an organizer of the EPIC conferences and has leveraged this exposure to sign up users.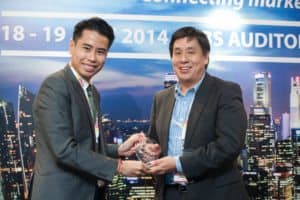 CEO and co-founder of CoAssets Getty Goh commented on the growth;
"We are delighted to have reached 30,000 users, this milestone demonstrates the reliability of our platform and is a real proof of the property crowdfunding concept. We are pleased that much of the growth is organic, driven by the ease of use of our platform, financial returns and retail investors gaining access to a new asset class."

"We are also very proud of our EPIC events which are delivering successful investment transactions, increased awareness of crowdfunding and access to capital to developers."
CoAssets wants to be the most trusted and utilized real estate platform in the Asia Pacific region. CoAssets is presently hosting another EPIC event today in Surabay, Indonesia.