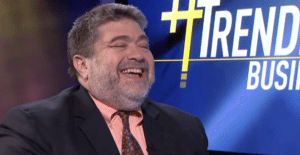 Global investment crowdfunding platform OurCrowd is perched in one the hottest startup markets in the world: Israel. Between a 1000 and 1500 new startups are launched every year in a country with a relatively small population. Some of these companies have gone on to become megahits garnering the country the title of "Startup Nation". But OurCrowd doesn't want to keep the opportunity all to themselves, they want to share the fortune with the rest of the world by allowing smaller investors to invest alongside prominent VCs in highly vetted companies.
Jon Medved, OurCrowd founder (who is perpetually in motion), visited the studios of Bloomberg in Hong Kong while he was returning from a conference in mainland China. Medved explains that today about $5 billion in investment pours into Israel each year. With the Chinese moving in, that number is expected to jump. And why is Israel such a hotbed of entrepreneurial creativity? Medved states that one of the reasons is risk, and the willingness of individuals to shoulder the risk; roll the dice and take a chance on creating something big. This is both for entrepreneurs AND investors.  And that is how capitalism is supposed to work.
Watch the video below.