Earlier this month, Chicago-based startup Gramovox offered up production and shipping details about its Kickstarter success project, Floating Record.
Floating Record is described as a high-performance turntable that plays records vertically through built-in, dynamic, full-range stereo speakers (or through an RCA line out). Each Floating Record sits on a wood base and a belt connects from a small wheel to a platter, causing it to spin and create a great sound without any issues. The project successfully secured $1,575,976 from 4,218 Kickstarter backers.
Gramovox shared in a recent update:
"Happy New Year! We've been hard at work building and shipping your Backer Rewards for about a month now, and we wanted to give you an update on our progress. We have now shipped out all Illinois Backer Rewards and have begun shipping to the rest of the US. Check out the hashtag #FloatingRecord on Instagram to see some of the amazing photos and videos people have been posting!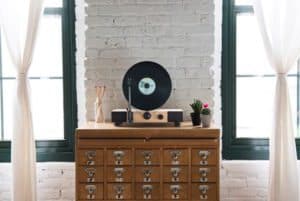 "As we mentioned in an earlier comment, our strategy has been to ship local first, in order to catch any early shipping or quality control problems and easily resolve them. We are now confident that our processes have improved to the point where issues like these will no longer occur, and our far-away Backers won't need to worry about them.
"Over the past few weeks, we've been ramping up production and refining our assembly and quality-control processes. We're very pleased with the progress we've made. We've gone from building around 20 Floating Records per day to building 100 a day. We're aiming to get that number even higher, but we don't want to sacrifice quality for quantity."
The company also offered up some photos of the Floating Record being assembled.
Gramovox continued:
"Given our current rate of production, we want to give you some specifics on when you might expect to receive your Backer Rewards."
The timeline is listed below.
Feb 1 – March 7: Ship remaining US Backer Rewards (lower Backer numbers first, allow 3-5 days for delivery)
March 8 – March 22: Build EU Backer Rewards
March 25 – April 8: EU Backer Rewards ship via ocean to Europe
April 11 – April 15: EU Backer Rewards ship via ground and are delivered
March 23 – April 6: Build and ship all remaining international Backer Rewards (anyone who does not live in the US or the EU, lower Backer Numbers first, allow 3-5 days for delivery)
The company then added:
"We understand that this timeline is longer than our previous projection, and we sincerely apologize for the wait. We now have enough data to accurately calculate how much we will be able to build over time, and we're confident in this estimate.

"As always, if you have any questions or concerns, please either send us a message here on Kickstarter or email us at [email protected] Those are the most reliable ways to get a timely response from us. We'll respond as soon as we possibly can."
Have a crowdfunding offering you'd like to share? Submit an offering for consideration using our Submit a Tip form and we may share it on our site!