Inkshares, a start-up crowdfunded book publisher, announced on Friday that Quincy Carroll's Up to the Mountains and Down to the Countryside has been recognized as a finalist in the 18th annual Foreword Reviews' INDIEFAB Book of the Year Awards. The website revealed that in the next three months, a panel of more than 100 volunteer librarians and booksellers will determine the winners in 63 categories based on their experience with readers and peers.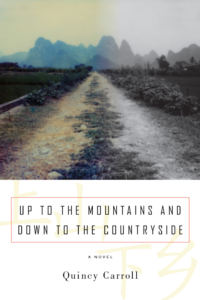 The book, which received 828 orders through Inkshares, was published in November 2015. Its description reads:
"A deadbeat and an idealist clash in rural China with one of their students caught in between. Kirkus Reviews calls the book a contemplative work on being a purposeless outsider."
While sharing details about the event, Victoria Sutherland, publisher of Foreword Reviews, stated:
"The 2015 INDIEFAB finalist selection process is as inspiring as it is rigorous. The strength of this list of finalists is further proof that small, independent publishers are taking their rightful place as the new driving force of the entire publishing industry."
Editor Kiele Raymond commented:
"Quincy Carroll's Up to the Mountains and Down to the Countryside is full of adventure and foreign intrigue, but it also quietly subverts the traditional East-West dichotomy through the warring perspectives of two English teachers as they navigate a school deep in rural China. The young upstart, Daniel, brims with purpose as Guillard, his aged, defeatist rival, swats away idealism at every turn. In the end, however, each of their convictions is exposed to be tragically flawed. With sharply incisive prose, Carroll is unsparing in his depiction of cultural influence as both pervasive and utterly transient."
Foreword Reviews will celebrate the winners during a program at the American Library Association Annual Conference in Orlando, Florida in June. It will also name the Editor's Choice Prize 2015 for Fiction, Nonfiction and Foreword Reviews' 2015 INDIEFAB Publisher of the Year Award during the presentation.