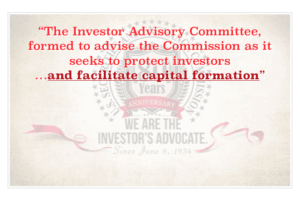 The next meeting of the Investor Advisory Committee (IAC) is scheduled to take place at the offices of the Securities and Exchange Commission on April 14th. As always, the meeting is open to the public but most of the proceedings will be live-streamed on the SEC web site.
The IAC was mandated under Dodd-Frank to advise the Commission on securities regulations, disclosure, investor protection, market integrity and other areas the committee sees fit to discuss.  Some of the issues the IAC has reviewed in the past include, the definition of an Accredited Investor, decimalization / tick sizes, general solicitation and crowdfunding  The published agenda, reproduced below, includes a reflection on the first full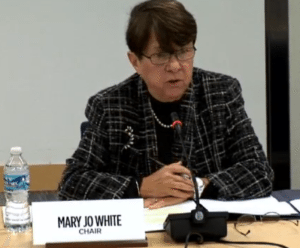 term of committee appointees. While the IAC has no rule-making power the Commission does look to the participants for feedback and perspective beyond the walls of the F Street HQ.
Current Chairman of the IAC is Kurt Schacht from the CFA Institute. Expect Chair Mary Jo White and other Commissioners to make an appearance and to contribute a public statement regarding the issues on the agenda.
---
Meeting of the SEC Investor Advisory Committee Agenda
9:30–9:55 a.m. Welcome Remarks and Continental Breakfast

9:55–10:00 a.m. Approval of Minutes of Previous Meeting

10:00–11:00 a.m. Discussion of a Recommendation of the Investor as Purchaser Subcommittee Regarding Mutual Fund Cost Disclosure

11:00–12:00 p.m. Update from the SEC's Office of Compliance Inspections and Examinations

12:00–1:45 p.m. Lunch/Non-Public Administrative Session

1:45–2:00 p.m. Subcommittee Reports

2:00–3:00 p.m. Discussion Regarding Cybersecurity and Related Investor Protection Concerns

3:00–3:45 p.m. The Investor Advisory Committee Turns Four: Reflections on the First Full Term of Investor Advisory Committee Membership

3:45 p.m. Adjourn

Sponsored Links by DQ Promote