On Wednesday, Singapore-based bullion retailer, Silver Bullion Pte Ltd., announced the launch of its 1-month bullion secured peer-to-peer(P2P) loans.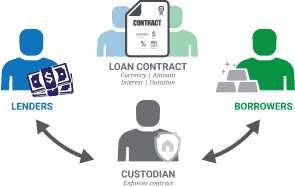 Silver Bullion previously offered loan durations of 6 months, 12 months and 24 months secured by physical gold and silver collateral stored in its vault, The Safe House. The company noted that the collateral to loan value for loans of such tenures are 200% and with the 1 month loans, the collateral to loan value is brought lower to 160% and allows borrowers to unlock more capital from their gold and silver. The company added that the 1-month bullion secured P2P loans will give borrowers and lenders an options to access short-term funds at minimal fees.
Gregor Gregersen, founder of Silver Bullion Pte Ltd stated:
 "The lower collateral requirements make borrowing more efficient without meaningfully increasing risk because of the short duration of the loan which makes large collateral price falls less likely."
Last year, Silver Bullion launched its bullion-backed P2P loan platform. According to Channel NewsAsia, the website is considered one of the world's first bullion-backed peer-to-peer (P2P) loan platforms, with its Safe Room as backing.
Here's how Silver Bullion works: Say you're a borrower with investment grade gold or silver, and you want a S$1,000 loan. You would need to put up double your loan amount (in this case, S$2,000) as collateral. If for some reason you failed to repay, the bullion would be sold and the funds repaid to the lender. The company says that requiring double the collateral decreases the risk of credit default, so interest rates are as low as 4.5 percent per annum.