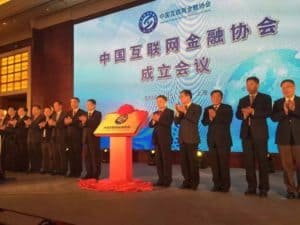 Late last month the National Internet Finance Association of China (NIFA) was launched during a ceremony in Shanghai. CreditEase, the first (and largest) peer to peer lender in the country, was elected as an Executive Director to the new entity. Former People's Bank of China Deputy Governor Li Dongrong serves as the Association's first president.
The new association is being led by the People's Bank of China, in conjunction with the China Banking Regulatory Commission, the China Securities Regulatory Commission, and the China Insurance Regulatory Commission.
CreditEase was elected as an Executive Director along with Internet finance companies, such as Baidu and Tencent, and traditional financial institutions such as Industrial and Commercial Bank of China. According to information provided by CreditEase, NIFA will formulate industry rules and strengthen Internet finance oversight, while promoting industry self-discipline and guiding and supporting the improved management and lawful operation of Internet finance institutions.
The establishment of the industry association is described as necessary to improve the industry while assuring its healthy growth.  Internet finance in China is the largest in the world with thousands of platforms in operation. Providing access to capital online is vital for the Chinese economy to shift into a more consumer-driven economy.  While many legitimate platforms operate, the industry has struggled with issues of fraud and failed platforms.
NIFA President Li Dongrong was quoted on the creation of the group explaining this represents a "new stage" in Internet finance.
"In the future, the Association will firmly act on its mission to "serve regulators, serve the industry, and serve society", enhancing industry self-discipline, consciously and actively protecting the order of the Internet finance industry. The Association will also serve as a bridge between government and industry, representing the reasonable needs of members and providing them with outstanding public services."
Sponsored Links by DQ Promote