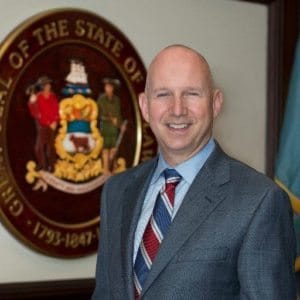 In a bipartisan push that matches the Governor's commitment to boost access to capital for smaller firms, Delaware will file legislation next week that will allow state residents the ability to invest in SMEs via online crowdfunding platforms. The bill is sponsored by Representative Bryon Short and Senator Brian Bushweller, both Democrats.  Governor Jack Markell joined with the Delaware General Assembly today to announce the new legislation.
"With the best job growth in the region, we are making progress in strengthening our economy, but we can only realize the full potential of our state if we remove unnecessary barriers to innovation and entrepreneurship," said Governor Markell. "This legislation sends another signal that Delaware supports small business growth, which is vital to our state's continued success, and I thank the bill sponsors, Representative Short and Senator Bushweller, for their commitment to seeing it pass the General Assembly."
Representative Lyndon Yearick, a Republican, lauded the joint legislation;
"This bill is a recognition of the changing landscape of how businesses are conceived and financed in the 21st Century. There are many examples of businesses that got their start through online crowdfunding. It's time we allow Delaware entrepreneurs to tap into a resource that could help them turn a dream into a viable enterprise."
The bill's primary sponsor, Representative Shore, explained that Delaware needs to keep pace with technology and assure that small businesses were empowered with new methods of raising capital;
"Delawareans have a strong sense of pride in locally owned and operated businesses. This bill will take steps to help new companies by enabling Delaware residents to invest and participate in the success of homegrown Delaware start-ups," said Short.
According to the bill, Delaware-based companies may offer equity online to residents or other Delaware businesses.  Certain disclosures will be required but detailed financial statements will not be demanded. A Delaware business will be able to raise up to $1 million – thus matching the Federal exemption under Title III of the JOBS Act.  Any individual may invest up to $5000 in a 12 month period.
Senator Bushweller thought the bill struck the right balance between investor protection and access to finance for SMEs.
"I look forward to working with my colleagues to pass this into law."
The state Department of Justice's Investor Protection Unit will maintain oversight of sale registration and equity offerings.

This coming May, Title III of the JOBS Act, will finally be available to entrepreneurs across the country to raise capital online using a Federal exemption that legalizes retail equity crowdfunding.  Accredited crowdfunding, under Title II of the JOBS Act, and Reg A+, under Title IV of the JOBS Act is already being utilized by smaller firms.

Sponsored Links by DQ Promote