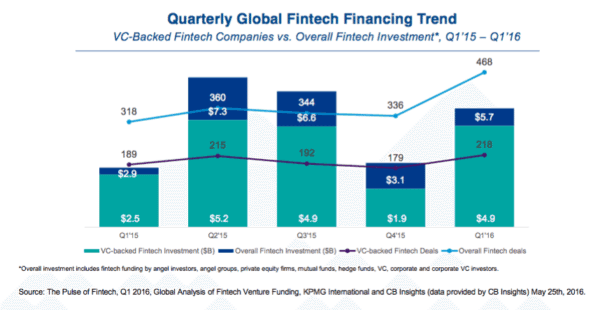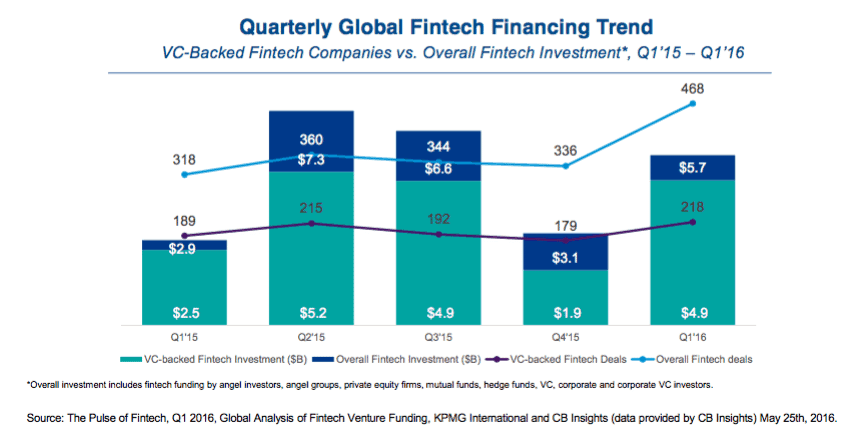 Following a bit of slump in the final quarter of 2015, Fintech investment "roared" back in Q1 of 2016 squelching any discussion of Fintech's imminent demise. This is according to a report authored by KPMG and CB Insights.  While the P2P / Marketplace Lending sector was pummeled with unsettling news as Lending Club saw a forced executive shift and fast money scurried away, the broader Fintech sector saw impressive investment growth as "mega-rounds" boosted quarterly investment into VC-backed fintech companies by over 150%, according to the quarterly Global report on fintech VC trends published jointly by KPMG International and CB Insights. Global investment in private Fintech totaled a whopping $5.7 billion in the first three months of the year.  The KPMG /CBI report says specifically that $4.9 billion was VC-backed Fintech into 218 individual deals – a 98% increase versus same quarter last year.  The authors do note that three larger rounds dominated the funding as they accounted for 54% percent of the total, yet the fact remains Fintech rocks.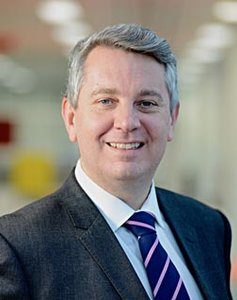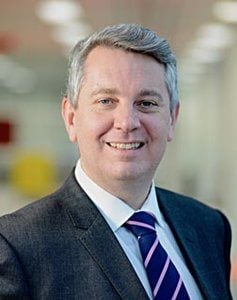 Warren Mead, global co-leader of Fintech for KPMG, said while the tech sector may be in a bit of a pause – Fintech is not.
"Investors are putting money into fintech companies all over the world – from the traditional strongholds of China, the US and the UK – to up and coming fintech hubs like Singapore, Australia and Ireland."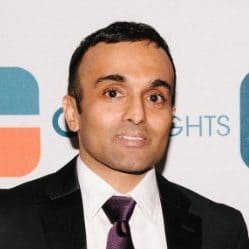 Anand Sanwal, CEO of CB Insights concurred stating Fintech startups continue to attract large investments from the US and everyplace else.
"…investors gravitate to areas yet untouched by much tech innovation including insurance, recent events and public market performance suggest that growth-stage fintech fundraising will be harder to come by moving forward in 2016."
According to the report, Asia led the way with $2.6 billion in deals. This was followed by North America with $1.8 billion and Europe at just $348 million.
While Europe may be lagging other regions, the Q1 numbers are a five quarter high rising 27% quarter over quarter. North America, dominated by the US, saw Q1 numbers that were "on pace for a 10% funding drop at the current run rate."  Yet VC-backed Fintech in North America is on track to top 500 deals.
Asia, dominated by China, zoomed to $2.6 billion in Fintech investment. In Q4 of 2015, just half a billion was invested in Asia based Fintech.  The numbers coming out of Asia were dominated by large investments in JD Finance and Lu.com. Asian Fintech deals are on track to match the 2015 high.
Total Fintech investment during 2015 stood at $11.9 billion for 775 deals. The trajectory for 2016 means that global Fintech investment should hurdle that number later this year if the global economy holds.
The top 5 Fintech deals for Q1 of 2016 are as follows:
Lu.com $1.216 billion – Asia
JD Finance $1.01 billion – Asia
Oscar Health Insurance $400 million – North America
Welab Holdings $160 million – Asia
Bettermint $100 million – Asia
The largest deal in Europe was World Remit at $45 million – number 14 on the list. The deals with World Remit and LendInvest accounted for over half of the European deals – both are UK based.  The report noted that the regulatory environment in Europe made Fintech investment more difficult.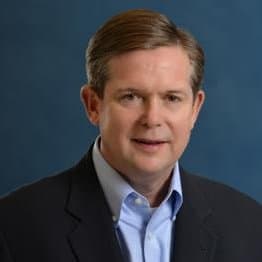 Brian Hughes, KPMG Partner and Co-Leader KPMG Enterprise Innovative Startups Network, warned that challenges in the US at Lending Club and other Fintech firms may slow North American investment;
"Q1'16 was a strong quarter for venture capital investment in the fintech sector, characterized by 13, $50 million-plus rounds to VC-backed companies globally, including billion-dollar rounds by Lu.com and JD Finance. However, recent challenges at several high profile, publicly-traded fintech companies, may well dampen private investor enthusiasm moving into Q2."
(Editors Note: the findings of the report will be discussed in a call arranged by CBI and KPMB on May 31st at 1130AM ET. Registration required)
Sponsored Links by DQ Promote