On Tuesday, reward-based platform Crowdfunder UK announced it has formed a partnership with Cavendish Enterprise, an association made up of  business support agencies that work together across England to help the country's start-ups and growing businesses. The duo is set to offer key crowdfunding advice and support to 100,000 businesses.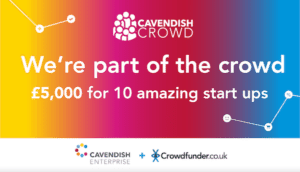 According to Crowdfunder UK, the new Cavendish Crowd partnership will enable business support advisors to provide crowdfunding support for startups and established businesses looking to raise finance through three types of crowdfunding platforms: Rewards, Equity, and Community.
Crowdfunder UK also revealed the businesses being offered a 'once in a business lifetime' 100 free hours of enterprise support with the Cavendish Start & Grow programme, which is supported by the Regional Growth Fund. Each of the partners of Cavendish Enterprise will also be able to directly support crowdfunding projects within their region with a share of £5,000 of pledges through the Cavendish Crowd platform (supported by Crowdfunder UK). 
Kevin Horne, Chair of Cavendish Enterprise, stated:
"In our continued efforts to provide innovative support to new and growing businesses, Cavendish Enterprise is pleased to offer a dedicated crowdfunding platform for our clients. Crowdfunding is the latest phenomena to hit the finance market and Cavendish has seized the opportunity to offer crowdfunding as an additional support service to new businesses.  The service offers a facility to source the necessary funding required for start-up and growing businesses where it might not have been available through traditional routes. By working in partnership with Crowdfunder, we will have the expertise and support of an established platform provider to ensure the Cavendish Crowd facility is a useful and successful additional service to complement our business support programmes."
Doug Scott, Non-executive Director, Cavendish Enterprise, commented:
"Crowdfunding is becoming an increasingly important element in the funding mix for new and small businesses. In bringing together the small business expertise of the Cavendish Enterprise advisers, the specialist knowledge and skills of Crowdfunder and the enthusiasm and dynamism of new entrepreneurs, new, exciting opportunities are going to be developed and exploited across the country. We can't wait to get started!"
Oli Sleeman, Head of Partnerships at Crowdfunder, added:
"We believe in the power of Great British business and it's by partnering with powerful networks that we are able to extend our reach into regions across the UK to support even more enterprises on their journey. We are delighted to be working with Cavendish Enterprise to offer up intensive crowdfunding support for businesses at each stage of their growth."
Sponsored Links by DQ Promote