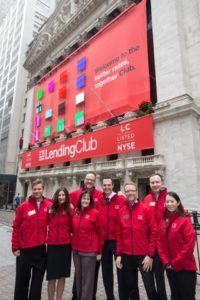 In a recent article in WSJ.com, an analyst report is referenced stating Lending Club (NYSE: LC) is buying more of its own loans.  While it was labeled as a "mixed indicator" it is also a vote of confidence in the assets as Lending Club shifts away from P2P/institutional model towards one where Lending Club utilizes its own balance sheet.  The same report labeled the strategy a temporary measure, as the loans will be resold, while funding channels are reconstructed.
The double whammy of fast money abandoning the marketplace lending sector when the economy stumbled and the forced departure of Lending Club co-founder Renaud Laplanche was a one-two punch.  But as many have noticed, the demand for consumer credit remains pretty robust.
Meanwhile, another report states that JPMorgan and Goldman Sachs are both kicking the tires of  the largest marketplace lending platform in the US.  Smart money never wastes an opportunity to benefit from a crisis – especially one that is believed to be temporary.  Lending is inevitably moving online. Buying an established player, with a known brand, while prices are cheap – simply makes sense.  Concurrently, recent investor Tianqiao Chen, owner of Shanda Media, has been increasing his holdings in the beleaguered online lender.  He clearly believes there is an opportunity to drive capital gains.