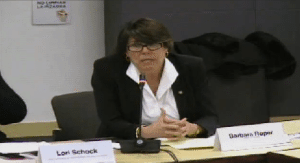 The Securities and Exchange Commission (SEC) has announced three new members of the Investor Advisory Committee (IAC).  The new members are:
John Coates, John F. Cogan Jr. Professor of Law and Economics at Harvard Law School, and Research Director of the Center on the Legal Profession
Nancy LeaMond, Executive Vice President, Chief Advocacy & Engagement Officer, Community, State & National Affairs, AARP
Elisse Walter, Former Chairman, U.S. Securities and Exchange Commission
The IAC also announced the reappointment of the following members:
Stephen Holmes, General Partner Emeritus, InterWest Partners
Barbara Roper, Director of Investor Protection, Consumer Federation of America
Kurt Schacht, Managing Director, CFA Institute
Anne Sheehan, Director of Corporate Governance, California State Teachers' Retirement System
Damon Silvers, Director of Policy and Special Counsel, AFL-CIO
The following are members who were not up for renewal:
Joseph V. Carcello, Department Head and Professor, University of Tennessee Department of Accounting and Information Management, and Executive Director, University of Tennessee Corporate Governance Center
Lisa Fairfax, Leroy Sorenson Merrifield Research Professor of Law, and Director of Conference Programs, C-LEAF, The George Washington University Law School
Rick Fleming, Investor Advocate, U.S. Securities and Exchange Commission
Matthew Furman, Executive Vice President and Group General Counsel, Willis Group
Craig Goettsch, Director of Investor Education and Consumer Outreach, Iowa Insurance Division
William Lee, Senior Vice-President and Chief Investment Officer, New York-Presbyterian
Hester Peirce, Senior Research Fellow, Mercatus Center at George Mason University
Susan Ferris Wyderko, President and CEO, Mutual Fund Directors Forum
The IAC is a mandated committee under Dodd-Frank. It seeks to advocate on behalf of investors. The next meeting of the Committee is scheduled for this week on Thursday, July 14th, beginning at 9AM.  The meeting is open to the public and the SEC will be live-streaming the gathering on their website.