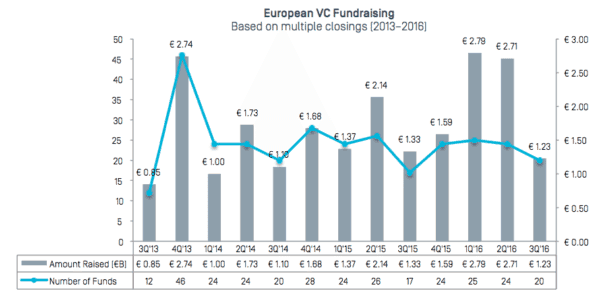 Dow Jones VentureSource is reporting that Q3 2016 venture capital declined noticeably in comparison to Q2 and slightly versus same quarter year prior. The report states that 20 European venture capital funds raised €1.23 billion during 3Q 2016. Comparing 2Q 2016, total capital raised experienced a steep decline, and the number of fund closings decreased by 17%.
European companies raised approximately €2.10 billion from 464 deals in 3Q 2016, a 32% decrease in the amount raised as well as a 3% decline in the number of deals when compared to the previous quarter. During the same period last year, the amount companies raised decreased by 39% but the number of deals grew by 9%.
Seed-stage financing actually performed better rising from €20 million Q2 to €45 million in Q3.  Year over year, seed stage increased from €30 million in Q3 of 2015. First, Second and later stage funding all declined.
Consumer services received the most funding with 126 deals raising €776.30 million.
The UK, even with Brexit turmoil, remained the destination of choice for VC funding as UK companies captured €737.96 million for 112 deals. Germany and France were in 2nd and 3rd place respectively.
The entire Dow Jones VentureSource report is embedded below.
[scribd id=328146456 key=key-VmK7p0baDkJsAJTBd1di mode=scroll]