The Government of Singapore is inviting startups, tech companies, investors, and banks to its inaugural Singapore FinTech Festival between November 14-18. Events will include a Hackcelerator Demo Day, the FinTech Awards, and a speakers expo. Finalists competing in the FinTech Awards had been busy implementing their solutions to fintech company and financial institution obstacles by June to compete for one of ten awards, ranging from S$ 50,000 to S$ 250,000 for a total prize pool of SG $1.15 million. Nearly 40 startups and companies are finalists, including Citi and OCBC Bank.  The festival is expecting over 6,000 attendees.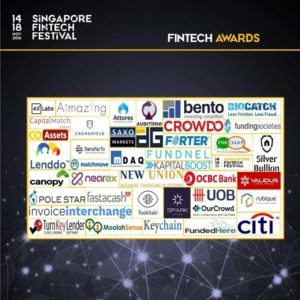 Invited speakers will cover topics including authentication, advanced sensors, digital and mobile payments, APIs, blockchain, and big data and machine learning. CEO of Global Consumer Banking at Citi Stephen Bird, Global Head of Diversity and Inclusion at Bloomberg LP Erika Irish Brown, Global Head of Principal Strategic Investments in Securities at Goldman Sachs Darren Cohen, and Senior Vice President and Head of Innovation and Strategic Partnerships at Visa Matt Dill are just a few of the expected speakers to attend.
Singapore's FinTech Festival is another step in the country's push to establish itself as Asia's leader in fintech and a global hub for the industry.
Stay tuned for the results of the festival!