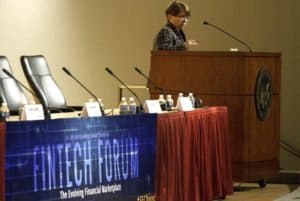 SEC Chair Mary Jo White announced her departure plans today.  As the Obama administration is quickly coming to a close, White stated her intent to leave at the end of his term. White was appointed the Chair of the SEC in April of 2103 becoming the 31st person to lead the regulatory agency.
"It has been a tremendous honor to work alongside the incredibly talented and dedicated SEC staff members who do so much every day to protect investors and our markets," said Chair White.  "I am very proud of our three consecutive years of record enforcement actions, dozens of fundamental reforms through our rule-makings that have strengthened investor protections and market stability, and that the job satisfaction of our phenomenal staff has climbed in each of the last three years.  I also want to express my appreciation for the engagement and dedication of my fellow Commissioners and my financial regulator colleagues, past and present."
White had earned the respect of many from both sides of the aisle for her hard work and perseverence in a highly politicized environment. During her administration, the SEC completed all of the mandates of the JOBS Act – an exercise in rulemaking that had languished under her predecessors. White also completed much of the Dodd-Frank mandates even as question increase as to the viability of the massive legislation that impacted almost all aspects of the financial services sector.
White said her duty has been to implement both strong investor and market protectsions while ensuring a foundation for future progress.
"Thanks to the hard work and dedication of the SEC's staff, we have accomplished both," stated White.
In the official release, the SEC highlighted the accomplishments affiliated with her administration:
Fundamental reforms to the money market fund industry and unprecedented new disclosures and protections for mutual fund investors in a major initiative to strengthen regulation of the $67 trillion asset management industry
Enhanced equity market structure oversight, including wide-ranging new controls on how key market participants handle technology and systems issues
A comprehensive framework for enhancing the effectiveness of corporate disclosure for investors
Extensive new safeguards for the financial system and for investors in the more than $7 trillion security-based swap market
New ways for smaller companies to raise capital needed to grow their businesses
New post-crisis restrictions on proprietary trading and investments by broker-dealers and other financial institutions through the Volcker rule
Major enhancements to transparency and risk management for asset-backed securities, which were a significant contributor to the financial crisis
Strong operating standards for the clearing agencies that stand at the center of our financial system
Extensive reforms to the regulation of credit rating agencies and how they address conflicts of interest that can harm investors
First-ever regulatory framework for municipal advisors who are critical to the capital raising activities of thousands of local governments
Modernized rules of practice for conducting administrative proceedings, including providing expanded rights of discovery
White's tenure saw over 2,850 enforcement actions and orders totaling more than $13.4 billion in monetary sanctions.  The Commission charged over 3,300 companies and over 2,700 individuals, including CEOs, CFOs, and other senior corporate officers.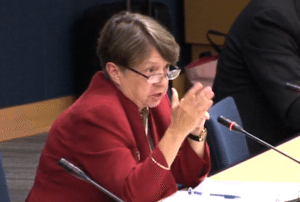 White had come under fire in recent months from within her own party. In an unprecedented act, Senator Elizabeth Warren published a letter asking President Obama to demote Chair White. Warren criticized White for not having pursued a corporate disclosure rule for political expenditures. Warren also lambasted Chair White's efforts to modernize corporate disclosure.

Prior to her arrival at the Commission, Chair White spent decades as a federal prosecutor and securities lawyer.  As the U.S. Attorney for the Southern District of New York from 1993 to 2002, she prosecuted cases involving complex securities and financial institution frauds, other white collar crime and international terrorists.  She also served as an Assistant U.S. Attorney and was Chief Appellate Attorney of that office's Criminal Division.  She served as Acting U.S. Attorney for the Eastern District of New York as well as the First Assistant U.S. Attorney.  In private practice, she was a litigation partner and chair of the litigation department of Debevoise & Plimpton LLP, overseeing more than 200 lawyers.  Chair White is also a member of the Council on Foreign Relations and the American College of Trial Lawyers.

Sponsored Links by DQ Promote