European fintech company figo, based in Germany, secured as a part of its Series B fundraising at the end of last month a €6.8 million (approximately $7.2 million) investment from Deutsche Börse Group.  The firm's latest project is expanding its banking API products and services around the Payments Services Directive 2 (PSD2) and other regulatory requirements.  figo also intends to expand the company worldwide.
Ankur Kamalia is the Head of Venture Portfolio Management at DB1 Ventures, the Corporate Venture Capital arm of Deutsche Börse, and he said;

"The figo team led by André Bajorat has made clear the opportunities that exist for virtually every player in the financial sector and the enormous potential that PSD2 implementation offers to European industry. In a changing financial landscape, figo has established itself as a reliable partner and has built up a fantastic fintech ecosystem around itself. We look forward to supporting their growth and also learning from the innovation they are driving."
In 2017, the EU will continue its efforts to regulate fintech and figo will continue to figure out how to shape its products for both the areas where PSD2 has clear "details on the one hand" and yet a "lack of clarification on the other hand."
According to Cornelia Schwertner, who works on regulation compliance at figo, the company has a lot of work cut out for them moving forward in regards to keeping up with PSD2 and perhaps in helping to shape fintech regulation's direction;
"PSD2 vs. market practice: keeping track of and providing content to all relevant consultations by EU as well as national legislative and regulatory/supervisory bodies – on our own behalf or as part of industry working groups.
Setting limits and cooperating: laboriously finding out about PSD2's limits and the subset of market needs for which bilateral amendments should be prepared.
Knowledge spread: coping with the diverse levels of expert knowledge concerning PSD2 and its market practice when talking to our business partners or officials.
Information overload vs. actual know-how: staying open to new ideas from constructive discussions and sorting the wheat from the chaff when faced with the recent mass of publications, studies and simple tweets.
Positive thinking: upholding one's positive mindset in times of market frustration, i.e. trying to 'stay away from negative people, as they have a problem for every solution'.
Compliance: having to prepare our internal organisation for compliance with PSD2 and according standards and guidelines without knowing what the final requirements will actually look like.
And at the same time: freedom vs. structure, i.e. keeping our startup spirit alive and maintaining our agile API development processes as well as our highly flexible business development and team structures while developing required structures."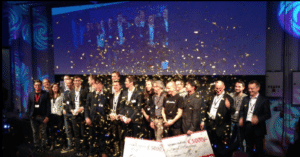 figo continues to contribute to the growth of fintech in Germany, where last month, the country released a
report that said that there is a total of 433 fintech companies with a business activity in Germany.