Last week, London-based Oppo Ice Cream returned to equity crowdfunding platform Seedrs to raise £150,000. Within a matter of hours, the company's latest campaign successfully secured its initial target and is now nearing £260,000.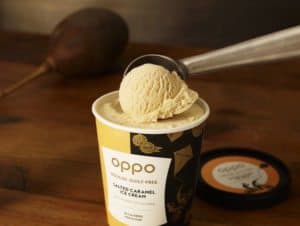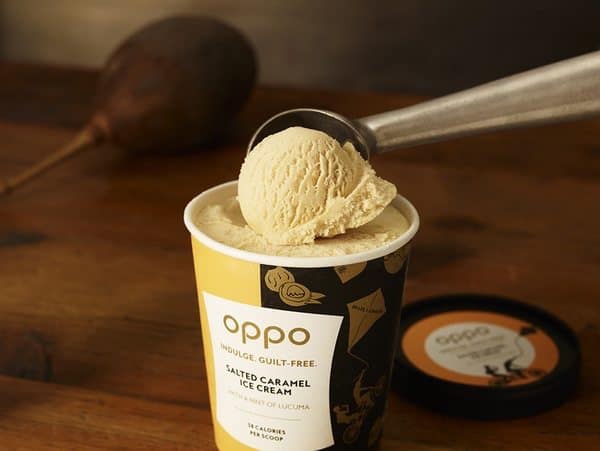 As previously reported, the ice cream brand has created ice cream with fewer calories than an apple. It contains 60% fewer calories than regular ice cream due to ingredients such as coconut oil, stevia leaf, and fresh milk. All three of the Oppo's flavors (Madagascan Vanilla, Mint Choc Swirl, Sated Caramel) each has a superfood boost. The ice cream is now sold in approximately 1100 locations, which includes Waitrose, Whole Foods Market, Budgens, Holland & Barrett, and Cocado. The Oppo team stated:
"We believe food doesn't need loads of sugar or calories to taste great, and we have demonstrated this by winning a Great Taste Award. We use science to achieve the impossible – true healthy indulgence. We believe Oppo is Europe's first, to our knowledge, dairy ice cream which can legally be called 'healthy.'"
Last year, Oppo Ice Cream became the most overfunded offer ever through its first campaign on Seedrs. Setting out to raise £100,000, the company raised more than 3x that goal and then returned once again to Seedrs earlier this year to do a follow-on round earlier this year, Oppo smashed through its £150,000 target in about 6 hours. Founders of the company, Charlie and Harry Thuillier, recently shared:
"Back in November 2014 and just 2 months' old, we were on the lookout for our first round of investment. We had actually already been offered our asking price from a venture capitalist, but at the time it just didn't seem right. At this time, luck struck. Whilst handing out some samples in the café below my flat, one of the customers took a tub, had a taste and then told me not to move anywhere, she'd be back soon. She had taken the samples to her husband who happened to be Seedrs CEO, Jeff Lynn! Jeff opened up the world of crowdfunding to us. Two record-breaking crowdfunds later (January 2015 and February 2016), we're positive that we made the right choice. We now have over 750 investors. These are 750 people who have an active interest in contributing to our success. They have been invaluable in a number of ways, from helping us with our marketing, to providing advice, and even giving feedback on new ideas, branding and propositions. We're thrilled to have 750 people who are joining us on, as well as shaping the Oppo journey."
They then added:
"Our experience with crowdfunding has been overwhelmingly positive. The biggest surprise was realizing just how public crowdfunding is. If you're looking for investment behind closed doors and don't get anywhere, then that failure remains behind closed doors. No-one need know. With crowdfunding, however, that failure is completely public. That's a scary prospect for any company. However, we have always seen this as an opportunity. A publicly successful raise can gain you some great PR, as well providing a public validation for your company as a viable business proposition. You just have to make sure the raise is successful, and if possible, noteworthy too. In our first raise, we became the fastest ever food and drink company to reach target through crowdfunding (we still hold this record to date), and in our second raise, in addition to another fast raise, we managed to secure Wimbledon Champion and World Number 2, Andy Murray as an investor. As a small business you have to take your opportunities. Crowdfunding is one of the best."
Have a crowdfunding offering you'd like to share? Submit an offering for consideration using our Submit a Tip form and we may share it on our site!