Float, a US fintech company that offers instant access to small dollar credit lines, launched today. Targeting thin-file millennials seeking more accessible and affordable credit, the LA-based company also announced that its $3M angel round raise from finance and tech industry veterans including Camp One Ventures, Funders Club; and from the 500 Startups accelerator program. Funding will be used for product development, marketing and to build strategic partnerships that will enable Float to expand nationally.
"We believe that access to affordable credit should not be reserved just for those with a lot of credit history and prime FICO scores," shared Float CEO and Co-Founder Max Klein.  "As someone with plenty of experience dealing with overdrafts, I know the frustration first-hand felt by 40 percent of my peers; I was getting charged a $35 overdraft fee for buying a $5 latte.  We built Float to help consumers avoid costly overdraft charges while empowering them to begin building credit with transparent, affordable living capital."
Float currently serves consumers in California and Utah, with plans to roll out in all 50 states over the next 6 to 12 months.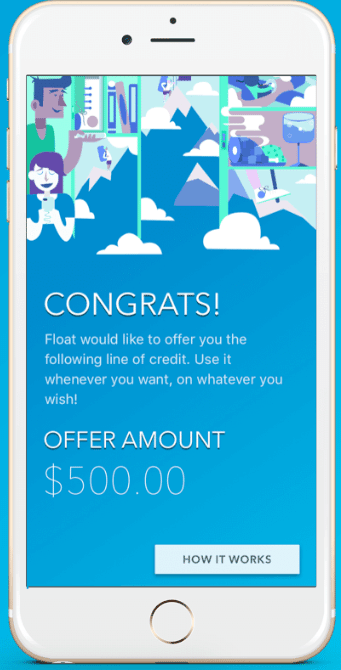 Sixty-three percent of Millennials don't own a credit card, one-third have never even applied for one, and almost 45 percent are considered 'thin file," which means they don't have a track record with the traditional credit bureaus, according to Float.  Millennials are not building credit like previous generations, and banks' overdrafts are designed to profit from this consumer base.  According to the Consumer Financial Protection Bureau (CFPB), bank fee revenue for overdrafts totaled $17B in 2016, typically a $35 charge on an average debit transaction of $24.
Float began initial testing this past summer and reportedly experienced a robust monthly compound growth rate of 124 percent from July through November.  The company aims to transform the entire credit experience by empowering young consumers to prove their creditworthiness through personalized underwriting and a ​fast, friendly, and affordable credit alternative.
Float has developed alternative, non-FICO based underwriting that can make personalized credit decisions in seconds.  Unlike traditional lenders, applying for Float will not hurt one's credit score, indicated the company, but a positive payment relationship will help build it. Float's open-ended credit lines range from $50-$1,000 and are generally used for income smoothing, financial emergencies or to seize an opportunity.  Float charges a flat five percent transfer fee and there are no hidden costs, interest or APRs.