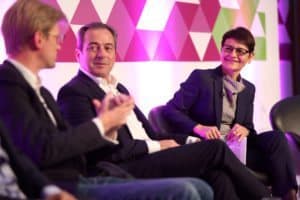 Therese Torris, Senior Contributing Editor for Crowdfund Insider, recently visited the offices of Misys to discuss alternative finance.
Misys is a large UK based financial services software provider offering solutions for retail and corporate banking along with capital markets applications.  Misys claims more than 2000 customers across 125 different countries.
Last year, Misys pushed pause on a listing on the London Stock Exchange due to market conditions. The Misys IPO was poised to become the biggest technology listing ever on the LSE.
Today, understandably, they are offering alternative finance solutions including online lending (P2P Lending / Marketplace Lending). Their "Fusion Banking" software was created in recognition that all lending is moving online and that banks must "seize the $490 billion crowdlending market." In the end, it is about banks remaining competitive and survival.
Torris, based in Paris, shares her perspective on 'Crowdlending" in the video below.