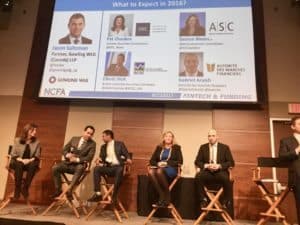 Last year, the National Crowdfunding Association of Canada (NCFA) published their industry-led research in the 2016 Alternative Finance Crowdfunding in Canada report. Their research benchmarked industry growth at 48% from 2013-2015 and predicted the 2016 market volume to be $190 million
The NCFA has now announced the launch of its 3rd alternative finance crowdfunding survey in Canada for platforms, investors and companies as part of its annual exercise in providing Canadian benchmarks on market size, volume, market activity, platform characteristics, jobs, and key stakeholder sentiments.
This year, in addition to the annual Canadian platform survey, NCFA says they are expanding the scope of the survey to capture both investor and company sentiment to provide a richer view of perspectives and help identify key insights and challenges relevant to market development and participation.
NCFA points to the fact that crowdfunding streamlines the process of raising capital while filling under-served gaps in the market. As the market evolves, policy makers, portal operators and industry participants need to better understand the emerging landscape that is becoming an integral part of raising capital online.
If you are interested in taking the crowdfunding survey the links are below. The survey is open until June 30th, 2017.
1.     FOR ALTERNATIVE FINANCE ONLINE FUNDING PLATFORMS (Canadian equity, debt, P2P marketplace lending, reward / perk, donation, revenue sharing (royalties), crowdsales and new fintech models)
2.     FOR COMPANIES (Startups and Scale-ups interested in raising up to $5M of capital to launch of grow their venture)
3.     FOR INVESTORS (Retail, accredited, VCs, PE, family offices, funding groups)