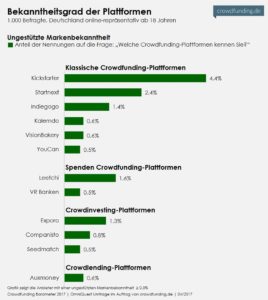 The team at Crowdfunding.de is out with their 2017 Barometer report for the crowdfunding market in Germany. Started two years ago, the Barometer interviews approximately 1000 people in Germany to gauge their exposure and understanding of the crowdfunding market. For this year's Barometer, the report states there is an ongoing increase in awareness and participation in the new form of finance.  But this sector growth includes a bifurcation based on certain demographic factors including income, education and age.
According to the report, for the "Digital Native" generation crowdfunding is well entrenched. Over 86% of the respondents aged between 18 to 29 are aware of crowdfunding. More than one in five respondents in this age group have already been financially involved in a crowdfunding project.
Some of the highlights of the report include:
Rewards based crowdfunding platforms garner the highest awareness with Kickstarter at the top of the list and DACH platform StartNext in 2nd place
Under "crowdinvesting" platforms, the top three plaforms for awareness include; Exporo, Companisto and SeedMatch
Under "crowdlending" the top platform for awareness is Auxmoney
As one may expect, higher education, higher income and a younger age show greater awareness of crowdfunding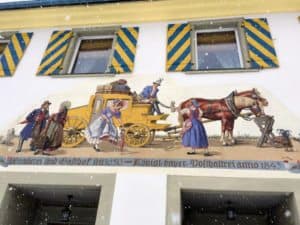 While crowdfunding as a concept may be growing in awareness the investment crowdfunding sector remains challenged due largely to a parochial approach by German regulators.
As Therese Torris wrote last week, German crowdinvesting remains very constrained. While industry leaders continue to engage policy makers, the political leaders seem disinclined to foster a more robust crowdfunding market.  Proposals made by the German Crowdfunding Association have been met by opposition from the representatives of the Credit Institutions, the consumer associations and the supervising authority BaFin.
The Crowdfunding Barometer (in German) is embedded below.
[scribd id=350067391 key=key-sfpAdpdPTBQT75NWFS8c mode=scroll]