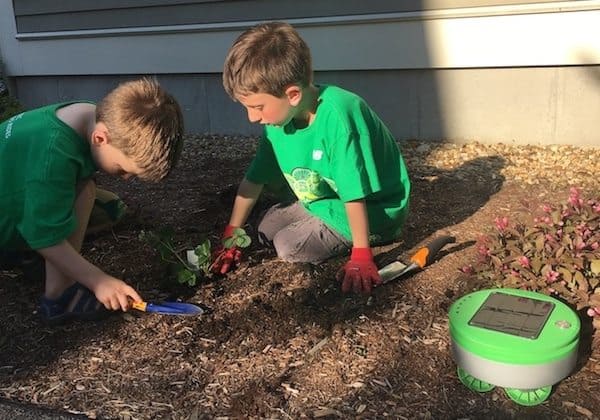 Roomba inventor, Joe Jones, alongside Massachusetts-based robotics company Franklin Robotics, has launched a crowdfunding campaign on Kickstarter seeking $130,000 for his latest invention, a weed-killing robot called Tertill. The Tertill is described as a solar-powered and weatherproof robot that weeds gardens every day. The campaign's description reads:
"With Tertill, gardeners can now enjoy weed-free vegetable and flower gardens, without the monotony and frustration of weeding.  Organic gardeners can breathe easy and enjoy a weed-free, chemical-free garden all season long."
Tertill is also chemical free (does not use any chemicals to remove weeds) and uses Bluetooth to talk to smartphones. It will live in the garden and prevent weeds from becoming established by using unique design elements and sensors. It will also avoid plants and obstacles while looking for weeds.
"Tertill relies on several sensors and clever programming to keep out of trouble. To detect objects like the garden fence and big plants, Tertill uses sensors similar to those found in many smart phones—the lightest touch is all it takes. To detect steep slopes, Tertill uses the same sort of sensor that tells your cell phone which way is up. Tertill can also sense if a motor stops turning—perhaps jammed by a rock—so it can protect itself from damage."
Specifications are listed below.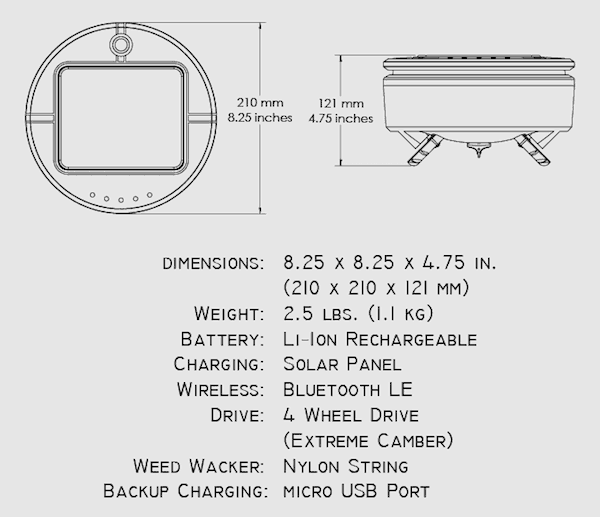 During a recent interview with The Verge, Jones shared more details about Tertill:
"The big problem with weeding is, how do you tell the difference between a weed and a plant that you want to keep? With a garden, you can recognize the difference between weeds and crops based on size. So anything that's short enough to go under the robot is considered a weed, and anything taller is considered a plant."
Tertill is currently available on Kickstarter starting at $225. Estimated delivery date is May 2018. The campaign is set to close on July 12th.
___________________________________________________________________
https://ksr-video.imgix.net/projects/2945484/video-788842-h264_high.mp4
Have a crowdfunding offering you'd like to share? Submit an offering for consideration using our Submit a Tip form and we may share it on our site!