Mumbai-based fintech startup Kissht announced this week that it has secured $2 million from early-stage venture capital firm Endiya Partners and Ventureast.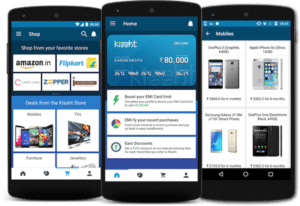 Launched in 2015, Kissht's app now allows users to purchase items on EMI without using a credit card through collateral-free loans. The service also has no hidden costs, completely transparent, assures no more cumbersome procedures and provides security for personal information and data. Speaking about Kissht's growth and plans for the future, CEO Krishna Vishwanathan reportedly stated:
"Going forward, we will be a data and analytics company enabling consumers to get loans from banks and NBFC working with us as lending partners."
Sateesh Andra, MD of Endiya Partners, added:
"We have a large population, decent number of smartphones and bank accounts. However, while we have about 600 million debit cards, credit cards are only about 30 million in India, which is a huge gap underlining the opportunity for consumer lending companies."
The company went on to add that it is in the process of raising its Series B round of investment. Earlier this year, it raised angel funding and total funds raised so far is $2.7 million. At the end of 2016, the app had 78,000 downloads and Kissht revealed that 19% of its users were repeated customers.