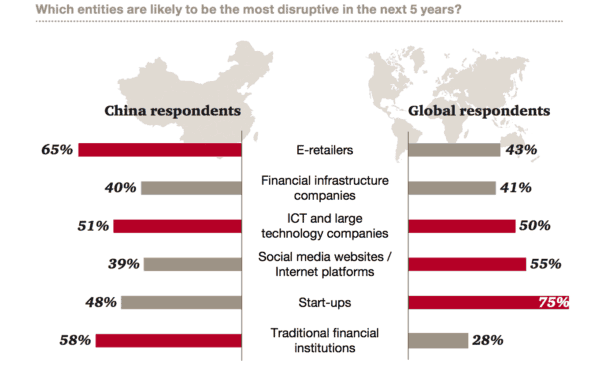 PwC has recently published a report on the status of Fintech in China, which happens to be the largest Fintech market in the world. This week, PwC Chairman and CEO of Greater China Raymund Chao presented the research in Hong Kong to the LendIt China tour participants.
So what do we learn about China and Fintech?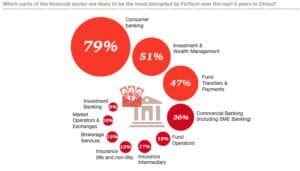 There are three main areas of finance that are poised to be irreversibly changed, according to PwC. Consumer banking, investment & wealth management and transfers & payments are becoming pretty much all digital and data driven. Customers will receive better and cheaper financial services while physical channels (ie Bank branches) will diminish in importance. Mobile is King, or Emperor perhaps.
PwC points to the fluid marketplace regarding regulation and demand for talent. In China, financial institutions are willing to go big and dedicate a whopping 1/3 of their annual turnover to invest in Fintech. Think about that.
Some high level bullet points on China and Fintech include:
68% of financial institutions expect to increase Fintech partnerships in the next three to five years
85% believe mobile apps are the fastest growing customer channel
71% regard price wars as one of the challenges of Fintech
Personal loans are at the top of the list for moving to Fintech over the next 5 years
While this Fintech report is China specific the research is indicative of the global importance of Fintech and China's rising prominence. The global average of expected annual return on Fintech Investment stands at 20%. Europe is below average at 14%. North America slightly above at 23%. China leads the pack as it expects a 38% return on Fintech related investment.

[clickToTweet tweet="In China financial institutions are willing to dedicate 1/3 of annual turnover to invest in #Fintech.Think about that" quote="In China financial institutions are willing to dedicate 1/3 of annual turnover to invest in #Fintech.Think about that"]

Interestingly, Chinese financial institutions have been slow to acquire Fintech firms but quicker to purchase services or ink partnerships. Perhaps this will change as winners rise to the top.

Artificial Intelligence (AI), Robo-processes (automation), Big Data (of course) will all play a significant role in the future of Fintech Innovation. Financial services will change dramatically over the next five years. There is no stopping this shift and the companies that are agile and embrace change stand a chance to thrive. The financial services that are stuck in the past, well, not so much.

The report by PwC is embedded below.

[scribd id=353764588 key=key-Nsg0OXENm4DCQYRwhctA mode=scroll]

Sponsored Links by DQ Promote