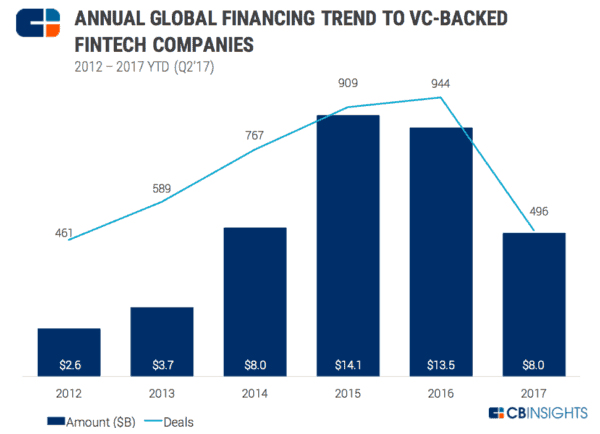 CBInsights is out with their Q2 report on global Fintech investment and according to their tally Fintech investment in 2017 is on pace for a record breaking year. While 2016 saw a dip in VC Fintech investment, 2017 has regained its mojo with a current run rate that will deliver the biggest numbers yet. Interestingly, Q1 of 2017 was registered just $2.8 billion in VC funding in contrast to Q1 of 2016 which came in at $4.99 billion. But this trend reversed with conviction in Q2 of 2017 as 251 deals pushed VC Fintech investment to $5.19 billion – the biggest quarter ever.
The universe of Fintech continues to evolve as distinct verticals emerge. The authors of this report broke things down into the following categories:
Lending Tech
Payments & Billing Tech
Personal Finance / Wealth Management
Money Transfer / Remittance
Blockchain / Bitcoin
Institutional / Capital Markets Tech
Equity Crowdfunding
Insurance Tech

Some of the highlights of the report include:
US saw a gangbuster Q2 for investment rounds of $50 million or more – 12 companies topped this number with 6 of these companies, AvidXchange, Bright Health, Addepar, Clover, Robinhood, and R3 raising $100 million +
There are now 26 Fintech Unicorns as the herd grows. Five new Unicorns emerged in Q2 broken down by the following regions:

North America 15
Asia 7
Europe 4

European Fintech investment is on track for a record year as 56 deals worth $500 million took place in the first half of the year. This is in spite of a dip in Q2
Global VC Fintech deals rose 19% from 2016 at $5.19 billion across 251 deals
The number of US Fintech deals drop but funding looks to jump by 11%
Median Early Stage Deals (Seed & Series A) rose to $2.7 million in Q2
Asia Fintech deals rocketed 238% in Q2 fueled, in part, by SoftBanks mega investment of $1.4 billion into Paytm (One97 Communications)
Most Active VCs in the Fintech Space, in order;

500 Startups
New Enterprise Associates
Ribbit Capital

The top 5 Fintech firms in valuation are as follows;

Lu.com $18.5 billion
Stripe $9.2 billion
Zhong An $8 billion
One97 $7 billion
SoFi $4.5 billion
There are plenty of data points in this report. The big takeaway? Fintech is already huge and growing bigger. Innovations in finance will not slow down at any time in the near future. This is a global phenomenon that continues to evolve as new sectors emerge. The digitization of all forms of finance is inevitable. The Fintech train has left the station and is picking up speed.
You can download the CBInsights Global Fintech Report: Q2 2017 here once you hand over your email address.